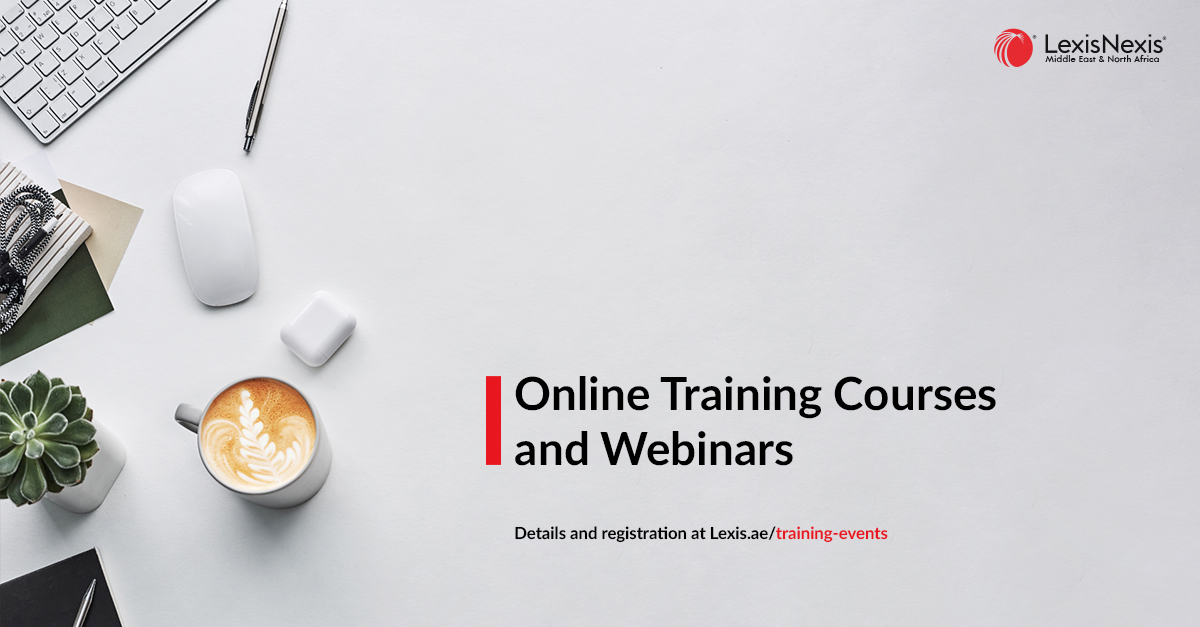 Practitioners registered with the DLAD can earn up to 6 CLPD Points for attending the training!
COURSE OVERVIEW
Employment and Human Resources is always a fast-moving area, it is therefore critical to keep up with the latest employment legislation and developments in the region. Join LexisNexis Middle East, Gateley UK LLP and OLAM Group for a three-part online training course where our experts will look at:
Session 1: Starting the employment relationship
Session 2: Employment contracts
Session 3: Performance and terminations
PROGRAMME
Topic
What will be covered?
Session 1

Sunday, 5 December 2021 | 5PM to 7PM (GST)

Starting the employment relationship

Legal framework
Recruitment
Unconscious bias
Discrimination
Compensation and pay equity
Types of employment contract
Sponsorship/Immigration
Role of HR
Onboarding

Session 2

Monday, 6 December 2021 | 5PM to 7PM (GST)

Employment contracts

Key terms of an employment contract
Policies & procedures
UAE COVID-19 legislative changes
Flexible working
Data protection

Session 3

Tuesday, 7 December 2021 | 5PM to 7PM (GST)

Performance and terminations

Requirements for successful remote work
The traditional approach towards performance management
Performance management during COVID-19

Goal setting
Feedback
Documentation and records

How to support line managers
How to support employees
When performance doesn't improve:

Legal avenues
Capability vs conduct
Performance improvement plans

Grievances
Termination
Dispute resolution
SPEAKERS
Thenji Moyo, Legal Director and Head of Employment for Gateley UK LLP (DMCC Branch)
Agni Skafidas, Managing Director (HR Consulting), OLAM Group
IN COLLABORATION WITH
Learn more about our publication – DIFC and UAE Employment Law: A Comparative Guide
PURCHASE YOUR COPY! For discount, please contact: contact.MENA@lexisnexis.fr
Written by Sarah Malik and Thenji Moyo, who have a combined 30 years of experience working as both employment law practitioners in the UAE and lecturing on employment law at Middlesex University Dubai, this unique book provides a comparative guide to onshore UAE employment law and offshore employment law in the DIFC.
It provides practical insight which will be useful for inhouse lawyers but has also been written in an accessible way which makes it a helpful guide for HR professionals and students.
Areas covered include employment contracts, statutory and family friendly rights, discrimination, disciplinary rules, termination and analysis of important Ministerial Decisions including those on COVID-19.
The book also provides English translations of UAE Employment Laws and summaries of key UAE and DIFC Employment case decisions.
Session 1: Starting the employment relationship


05/12/2021




17:00 (Gulf Standard Time) - 19:00 (Gulf Standard Time)

Session 2: Employment contracts


06/12/2021




17:00 (Gulf Standard Time) - 19:00 (Gulf Standard Time)

Session 3: Performance and terminations


07/12/2021




17:00 (Gulf Standard Time) - 19:00 (Gulf Standard Time)