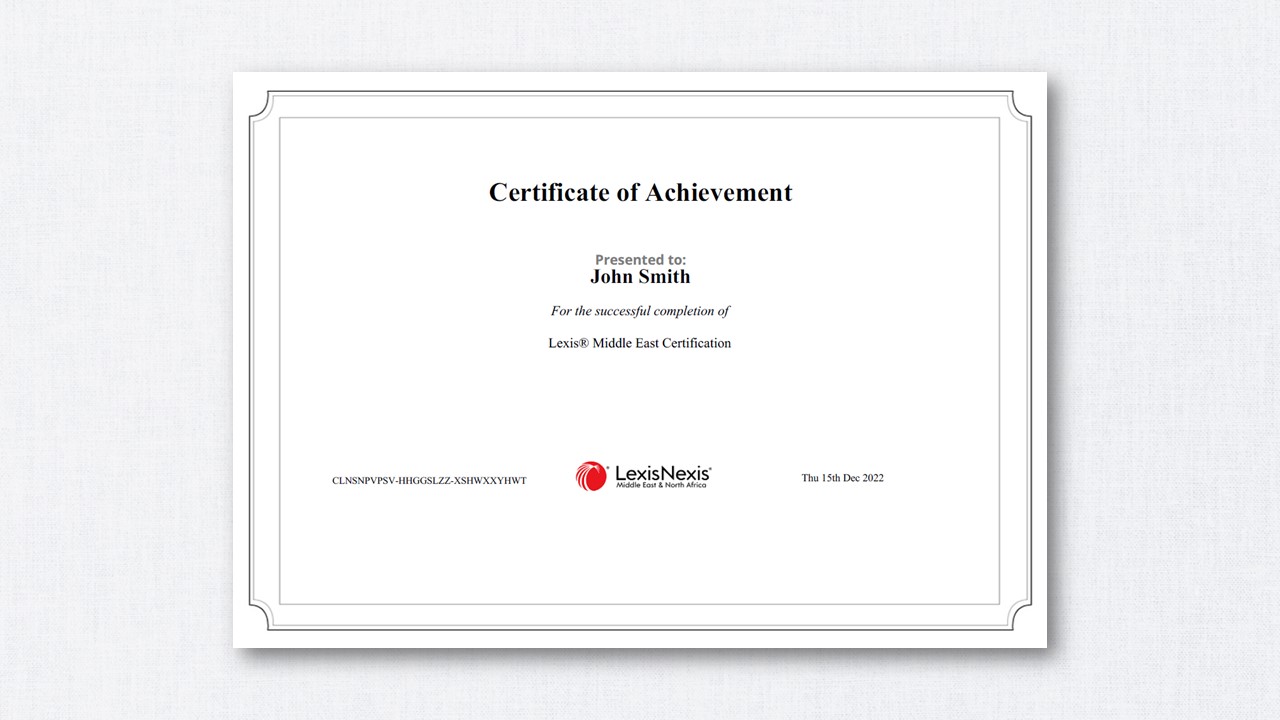 The Lexis® Middle East advanced certification programme presents an opportunity to enhance training in legal documentary databases and build familiarity and expertise with our platform.
.
All legal employers expect students and associates to be capable of conducting efficient online legal research. Recruiters often notice the time legal professionals have taken to improve their legal research abilities and complete research duties with polish and professionalism.
By taking the advanced certification test, candidates are challenged on a highly advanced level, further developing their skills to conduct effective legal research. The certification attests to those abilities and can be showcased as an achievement on resumes for employers to appreciate.
.
4-Step Process on How to Get Certified
---
Step 1 – Log in to your Lexis® Middle East Account
Log in to your existing Lexis® Middle East profile. If you are not already subscribed to Lexis® Middle East, you can book a demo and request a free trial here. Once you are in, check whether you have access to relevant content within the platform.
.
Step 2 – Are you prepared?
Have you attended a training session and reviewed the user guide? Review the necessary material to ensure you are familiar with the platform. Once you are ready, set aside enough time to do the test in one sitting.
.
Step 3 – Access the Certification Review the Steps
Access the certification here. Complete the required fields and read all necessary instructions for the certification before you launch the assessment to ensure a smooth and straightforward process.
.
Step 4 – Complete the Test and Pass!
Pass the test and receive your certification! Congratulations, you're well on becoming a legal research expert. Add the accomplishment to your CV and LinkedIn for future employers to appreciate.