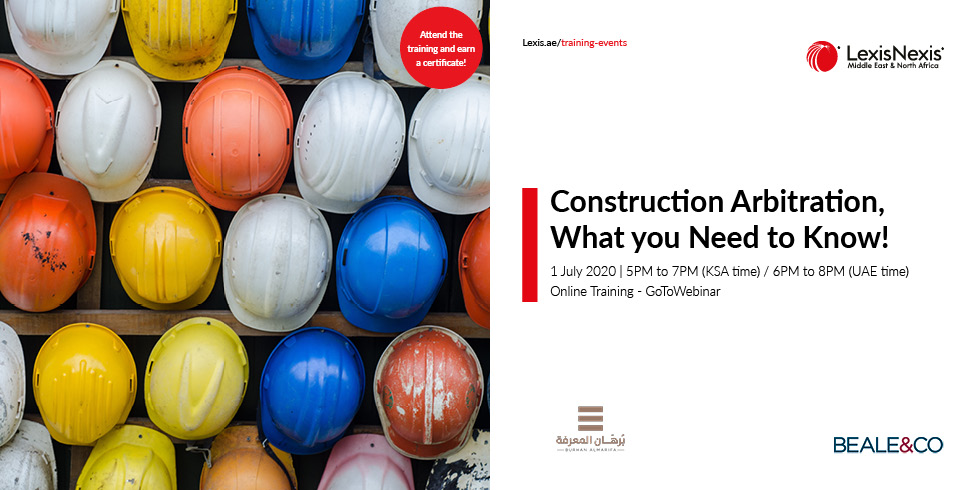 COURSE OVERVIEW
Join LexisNexis, in partnership with Burhan Almarifa and the Beale & Co, on 1 July 2020 from 5PM to 7PM (KSA time) / 6PM to 8PM (UAE time) for an online training session on construction arbitration where we will have a look at:
Construction claims and disputes: In this section we will discuss the many forms a construction dispute can take that is disputes typically arise out of main contracts, subcontracts, consultancy agreements. Typical claims will also be discussed such as claims in relation to design and variations, non-payment, delay claims, retention, release of bonds, unlawful termination etc.
Dispute resolution clauses and filing an arbitration: Dispute resolution clauses in construction contracts are often multi-tiered. We will explore the different ways dispute resolution provisions can be multi-tiered. We will look at the dispute resolution clause in the commonly used FIDIC form, time frames to watch out for and how these provisions are often amended in the particular conditions.
Choosing your arbitrator and experts: The peculiarities of a construction arbitration will be discussed. Factors to consider when you are filing a construction arbitration and the importance of choosing the right arbitrator. The kind of experts you can appoint and when to appoint them. We will also explore what to consider when working with your factual witnesses.
Other key stages of the arbitration- document production: It is important to be on top of the documents especially as sometimes document filing can be overlooked by the relevant project team. Document production is an important stage of the arbitration that should be well utilised. In this section we will explore how the Redfern Schedule can be used to ask for relevant and necessary documents and how to apply the IBA Rules of taking evidence.
Speaker: Sadaff Habib, Senior Associate at Beale & Co
TARGET AUDIENCE
Legal Consultants, Advocates, and Corporate Counsel with business interests in the MENA Region.
IN COLLABORATION WITH
We're sorry, but all tickets sales have ended because the event is expired.
Construction Arbitration: What you need to know!


01/07/2020




6:00 PM - 8:00 PM