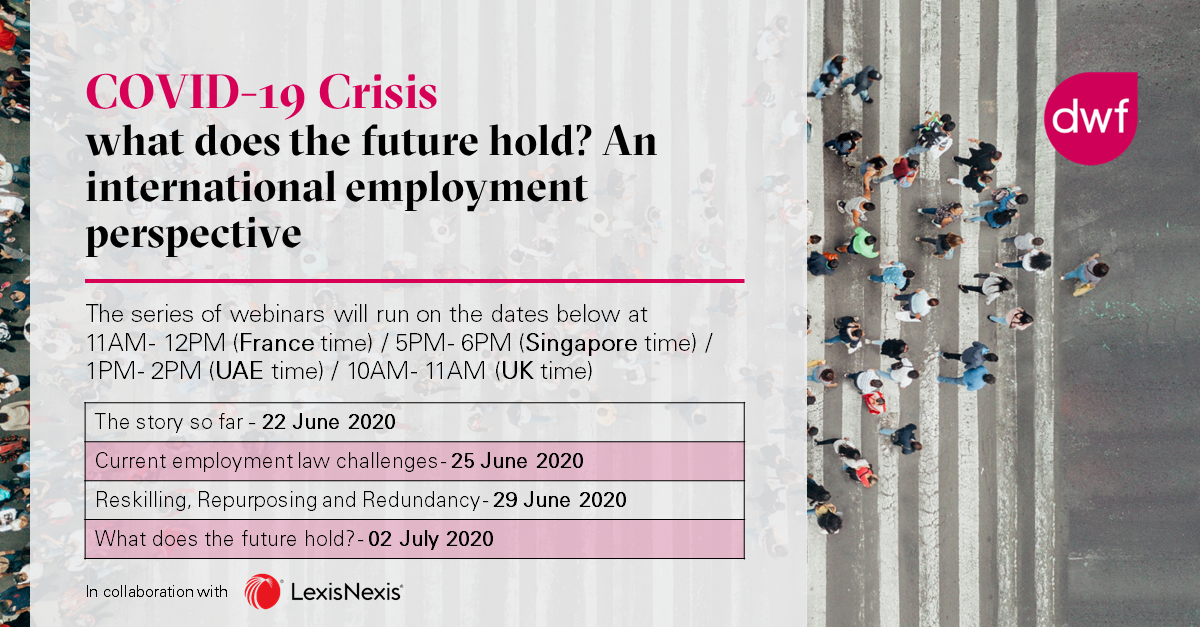 COVID-19 CRISIS – WHAT DOES THE FUTURE HOLD? AN INTERNATIONAL EMPLOYMENT PERSPECTIVE
Join LexisNexis and DWF for a webinar series where we will discuss what the future holds for employment.
In this series we will be tackling everything from home working to social distancing in the workplace, adapting employment contracts to redundancies, experts from global legal business DWF will give practical guidance for global businesses on what to consider in order to remain compliant, minimise legal risk and protect their business and their people. This multi-jurisdictional team will cover perspectives from the UK, UAE, France and Singapore – discussing the similarities and differences businesses need to consider as they plan for returning their global workforces to the 'new normal'.
PROGRAMME
Topic
Description
Date
Time
Registration
The story so far
DWF take a brief look at how the crisis developed in each jurisdiction in order to understand the current legal framework to which businesses must adhere. This webinar will help ensure you have an informed view of the current state of play in each region and what you should be doing to comply.
22 June 2020
UK: 10AM to 11AM

France: 11AM to 12PM

UAE: 1PM to 2PM

Singapore: 5PM to 6PM

Watch recording
Current employment law challenges
Based on their experience from advising global clients on their COVID employment strategies, DWF will share lessons learned and suggest pragmatic solutions to some of the current legal challenges as businesses start to return to the 'new normal'. You will understand how businesses are dealing with issues surrounding social distancing, PPE, thermal imaging and contact tracing apps from an employment, health & safety and data protection point of view.
25 June 2020
UK: 10AM to 11AM

France: 11AM to 12PM

UAE: 1PM to 2PM

Singapore: 5PM to 6PM

Watch recording
Reskilling, Repurposing and Redundancy
How will businesses have to change, restructure and adapt in the aftermath of the COVID crisis? When the strategy seems to be 'adapt or die', DWF consider what options businesses have as they look to re-engineer and consolidate their workforces locally and globally.
29 June 2020
UK: 10AM to 11AM

France: 11AM to 12PM

UAE: 1PM to 2PM

Singapore: 5PM to 6PM

Watch recording
What does the future hold?
Looking further ahead, DWF consider the key legal employment risks for the next 12-18 months. In this session the DWF employment team will consider employer liability issues and share their thoughts on how to plan when the future is so uncertain.
02 July 2020
UK: 10AM to 11AM

France: 11AM to 12PM

UAE: 1PM to 2PM

Singapore: 5PM to 6PM

Watch recording
IN COLLABORATION WITH
LEXISNEXIS MIDDLE EAST – CORONAVIRUS (COVID-19) INSIGHTS
The LexisNexis Middle East team has developed the following Coronavirus (COVID-19) insights addressing emerging issues across a variety of practice areas.
Kits
COVID-19 Toolkit (for subscribers) (access here)
Free COVID-19 Resource Kit (1) (access here)
Free COVID-19 Resource Kit (2) (access here)
Commentary
Coronavirus and the potential application of the concept of Force Majeure in the GCC – Dr. Talal Aladwani
UAE insolvency landscape post COVID-19 pandemic – Peter Bowring
Measures taken by Saudi Arabia to combat COVID-19 – Dr. Qaisar H Metawea & Lamisse Bajunaid
Amendments to the Kuwait Law of Civil and Commercial procedures –  Dr. Talal AlAdwani
Catching COVID-19 deemed force majeure by French court – Prof. Luc Gynbaum
Coronavirus and the Rule of Law: A Warning From History – Ian McDougall
Practice Notes
COVID-19: Challenges for the Legal Profession
The legal consequences of COVID-19 on your contracts: Force Majeure in different jurisdictions and industries
Checklists & Flowcharts
Key Operational & VAT aspects Businesses in the GCC should consider in response to the COVID-19 crisis – Checklist
COVID-19 and Data Privacy (Oman) – Checklist
COVID-19: Navigating the new world of working remotely, self-isolation and sick pay – Flowchart
Q&A Guides
COVID-19: How to Lead Through Change – Q&A
COVID-19 and UAE property law
What will the legal landscape look like post COVID-19 and what should we expect from a business perspective?
Precedents
Force Majeure Clause
Force Majeure and Business Continuity Clause
Legal News
Lexis Middle East subscribers have access to our daily news stream, which includes COVID-19 legal updates. These updates can be accessed here or in the 'Legal News' module of Lexis Middle East.
LexisNexis MENA COVID-19 Blog
The LexisNexis Middle East team has also launched a blog on developments on COVID-19 in the Middle East, which can be accessed here.
LexisNexis Global Coronavirus (COVID-19) Resource Kits
Readers can also access direct links (here) to the LexisNexis Global COVID-19 Resource Kits from our teams in USA, UK, Canada, France & Australia.
We're sorry, but all tickets sales have ended because the event is expired.
Webinar 1: The story so far


22/06/2020




1:00 PM - 2:00 PM

Webinar 2: Current employment law challenges


25/06/2020




1:00 PM - 2:00 PM

Webinar 3: Reskilling, Repurposing and Redundancy


29/06/2020




1:00 PM - 2:00 PM

Webinar 4: What does the future hold?


02/07/2020




1:00 PM - 2:00 PM