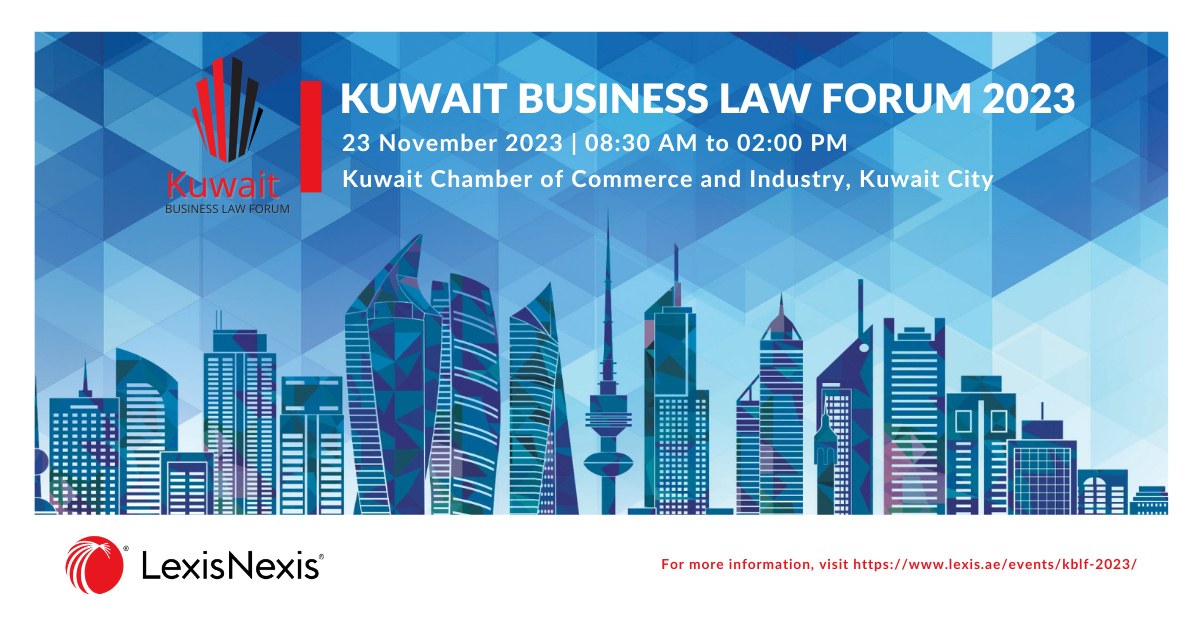 Join us in Kuwait City on 23 November 2023 for the Kuwait Business Law Forum 2023 – 7th Edition!
The Law Forum is exclusively for Kuwait's in-house counsel community.
OVERVIEW
The Kuwait Business Law Forum is Back! After smashing success in the past, with over 350 attendees from the Kuwaiti legal and business community, we are taking it up a notch!
Uncover the latest legal trends, and delve into the most cutting-edge legal developments and trends in Kuwait. Stay ahead of the game with insights from top experts!
Network with leading professionals from the Kuwaiti legal and business sphere. Additionally, the Law Forum will be conducted in both English and Arabic, with simultaneous translation, ensuring everyone feels at home.
Register now to secure your spot at the 7th Kuwait Business Law Forum.
Limited seats are available! Register Today!
For more information or sponsorship queries, contact Malini Dean.
PROGRAMME
8:30-9:00 AM
 Registration
9:00-9:30 AM
 Opening Remarks


 Khalifah H. Al-Yaqout – Managing Partner, Al-Yaqout and Al-Fouzan Legal Group
 Eric Bonnet-Maes – CEO LexisNexis Continental Europe, Middle East and Africa
Dr. Khaled Mahdi – Secretary-General of the Supreme Council for Planning and Development
Saleh Saleh Al-Selmi – Chairman of the Union of Investment Companies
Meshal Al Khanna – VP of Corporate & Professional Affairs at the Kuwait Bar Association

9:30-10:30 AM
 First Session: Assessing the Contractual Framework in the Construction Industry

Analyzing various contract types commonly used in the construction industry.
Investigating the legal and regulatory framework governing construction contract
Analysis of construction contracts across different jurisdictions
Emerging trends in construction contracts

Moderator: Dr. Ahmad Alshorbagy – Head of Projects and International Dispute Departments at Al-Yaqout & Al-Fouzan Legal Group

Panelists:

Virginie Colaiuta – Partner, LMS Legal LLP
Feras Taher – Manager, Capital Project Management Inc.

محاور النقاش:

تحليل أنواع العقود المختلفة المستخدمة عادة في صناعة البناء والتشييد.-

دراسة الإطار القانوني والتنظيمي الذي يحكم عقد البناء

تحليل عقود البناء عبر الولايات القضائية المختلفة

الاتجاهات الناشئة في عقود البناء

10:30-10:45 AM
 Coffee Break & Networking
10:45-12:00 PM
 Second Session: The Legal Economic Impact of Foreign Investments on Kuwait's 2040 Vision

Exploring how foreign investments contribute to Kuwait's economic diversification, growth and development
Legal framework for foreign investments: investment laws, regulations and policies
Compliance and regulatory challenges
Legal challenges and dispute resolutions

Moderator: Ghanim Al-Dabbous – Partner and Head of Corporate, Asas Attorneys & Legal

Panelists:

Khalifah H. Al-Yaqout – Managing Partner, Al-Yaqout and Al-Fouzan Legal Group
Abdulwahab Al-Essa – Member of Parliament
Waleed Al-Sharian – CEO, Mabanee
Dakhil Al-Dakhil – CEO, Rasameel

الحلقة النقاشية الثانية: الأثر القانوني والاقتصادي للاستثمارات الأجنبية على رؤية الكويت 2040

محاور النقاش:
استكشاف كيفية مساهمة الاستثمارات الأجنبية في التنويع الاقتصادي والنمو والتنمية في الكويت.
الإطار القانوني للاستثمارات الأجنبية: قوانين وأنظمة وسياسات الاستثمار
– لامتثال والتحديات التنظيمية.
– لتحديات القانونية وتسوية المنازعات

12:00-12:15 PM
 Prayer Break
12:15- 1:30 PM
 Third Session: Exploring the Legal Landscape of AI: Implications and Beyond

Investigating existing and emerging legal regulations and frameworks for AI technologies.
Analysing the legal challenges and implications of AI in data privacy and protection including GDPR and other regulations.
Discussing intellectual Property issues related to AI.
Comparing the legal implications of AI across different jurisdictions

Moderator: Dr. Anwar Al-Fuzaie – Partner and Head of Litigation at Al-Yaqout and AL-Fouzan Legal Group

Panelists:

Vincent Slingerland – Deputy Head of Sales, LexisNexis MENA
Feras El Hajjar – Founder & CEO, App4Legal

Yuri Botiuk – Partner, CANDEY
Khaled Al-Rashid – Founder, Oqood.ai

لثة: استكشاف المشهد القانوني للذكاء الاصطناعي: الآثار المترتبة وما بعدها

محاور النقاش:
التحقيق في اللوائح والأطر القانونية الحالية والناشئة لتقنيات الذكاء الاصطناعي.-
تحليل التحديات والآثار القانونية للذكاء الاصطناعي في خصوصية البيانات وحمايتها بما في ذلك اللائحة العامة لحماية البيانات واللوائح الأخرى.-
ناقشة قضايا الملكية الفكرية المتعلقة بالذكاء الاصطناعي.-
مقارنة الآثار القانونية للذكاء الاصطناعي عبر الولايات القضائية المختلفة.-

1:30-1:40 PM
 Closing Remarks and Appreciation Ceremony

Khalifah H. Al-Yaqout – Managing Partner, Al-Yaqout and Al-Fouzan Legal Group

1:40-2:30 PM
 Lunch & Networking at the "Business Owners' Club" on the 14th floor
SPEAKERS
KHALIFAH H. AL-YAQOUT

Managing Partner, Al-Yaqout and Al-Fouzan Legal Group

KHALIFAH H. AL-YAQOUT serves as a Managing Partner at Al-Yaqout and Al-Fouzan Legal Group and has held this position since 2015. As a lawyer and arbitrator, he has led multiple delegations in various international forums. In 2019, he headed the Kuwaiti delegation to the United Nations Council and the US Department of Commerce. He is also actively involved with the Commercial Law Development Program of the United States Department.

In addition to his current work with Al-Yaqout and Al-Fouzan Legal Group, Khalifah serves as a legal consultant for the Minister of Electricity and Water and Renewable Energy and the Minister of Social Affairs and Community Development. His approach to Corporate and M&A practice is to use practical and commercially focused tactics to successfully close the deal whilst protecting his client's interests and minimising their risks.

DR. ANWAR ALFUZAIE

Partner and Head of Litigation, Al-Yaqout and AL-Fouzan Legal Group

Dr. Anwar has a wealth of knowledge and expertise in banking and finance acquired over the course of more than 20 years. His unrivaled expertise in the banking and finance sector includes advising on conventional and Islamic banking matters, general corporate lending, real estate finance, fund finance, trade and commodity finance and acquisition finance. He holds an LL.B. from Kuwait University, an LL.M. and PhD from Montpellier University in Private Law and an LL.M. in International Business Law from Sophia Antipolis University. Dr. Anwar has published many studies in the field of Private Law. He has extensive experience in various areas of law, including:

• Arbitration
• Banking and Financial Institutions
• Real Estate
• Labour Law
• Intellectual Property

Prior to joining Al-Yaqout and Al-Fouzan Legal Group Dr. Anwar has occupied a number of esteemed positions, including but not limited to:

• General Counsel of Kuwait Finance House.
• Vice Chairman, KFH Capital.
• Legal Advisor for the State Audit Bureau.
• Legal Advisor for National Focal Point (UNCC).
• Member of the Consultative Counsel for Islamic Investment Companies (Capital Markets Authority).
• General reporter and Member of the Committee of Experts for the application of Conventions and Recommendations in the International Labor Organization (1998 – 2012)

DR. AHMAD ALSHORBAGY

Head of Projects and International Dispute Resolution, Al-Yaqout and AL-Fouzan Legal Group

Dr. Alshorbagy heads YFLG's Projects and International Dispute Resolution departments. With over 15 years of experience, he has extensive experience in a wide range of matters including corporate law, projects and international dispute resolution.

Dr. Alshorbagy gained extensive experience advising the Kuwait Authority for Partnership Projects. Over the past few years, he has advised in over 15 projects across various sectors.

Dr. Alshorbagy also has significant experience in International arbitration, where he represented clients in arbitrations under the ICC, ICSID, HKIAC, UNICTRAL, and LCIA.

In addition to his years of experience, Dr. Alshorbagy is the author of several legal books and articles that are published with reputable publishers and learned international law journals in Egypt, the U.S., the U.K., and Germany.

DR. KHALED MAHDI

General Secretariat of the Supreme Council for Planning and Development

Dr. Khaled is currently serving as the Secretary-General of the Supreme Council for Planning and Development; and the National Director of the Country Program Action Plan with UNDP in the Government of Kuwait since (2016). Currently, he is a member of the Supreme Council of Education, the Supreme Council for Public Universities, the Public Authority for Industries, the Kuwait Institute for Scientific Researches, the Public Authority for Housing Welfare, the National Fund for SME Development, the Public Authority for Applied Education and Training and The Arab Planning Institutes. He serves as a member of the Economic Reform team, Fiscal Budgeting Frame, Kuwait University Mega Projects, Ozone Affairs and Climate Change, National Census 2020, Social Safety Net and Education-Labor Market alignments among other national committees. Khaled leads the national efforts to implement the SDG Agenda 2030 and heads the delegates of the Voluntary National Report presentation at the UN. He co-founded the Kuwait Women Distinguished Award (KDWA) and the Kuwait Sustainable Development Award (KSDA). He received the "People First" Leader GCC HR Award in (2018) and was featured in several local and international news and reports.

Dr. Khaled was the Assistant Secretary-General for Follow-up and Future Forecasting and the Acting Assistant Secretary-General for Planning in the General Secretariat of the Supreme Council for Planning and Development (2015). During which he heads the Consultants Selection Committee, a board member of the Public Authority for Civil Information, Kuwait Master Plan 2040 executive committee, the Economic and Fiscal Reform monitoring committee.

He served as an Advisor for the Kuwait University strategic office (2005) and for the Minister of Planning and Development Affairs office (2013).

GHANIM AL-DABBOUS

Partner Attorney at ASAS Attorneys and Legal Advisers

He is a member of the Kuwait Bar Association with experience in Corporate Law, Commercial Law and Capital Market Law. He has completed various courses in different fields.

YURI BOTIUK

Partner, CANDEY

Yuri is a specialist in complex litigation and arbitration across multiple jurisdictions including Russia, Ukraine, Kazakhstan (and other CIS countries), India, the Middle East and Africa for both corporations and individuals. Actions range from multi-million dollar multi-jurisdictional fraud claims through to shareholders disputes, partnership disputes, foreign law claims, enforcing foreign judgments, construction disputes, actions for and against directors, defamation, breach of contract, tort and insolvency.

Yuri is regularly invited to speak as an expert on a variety of topics regarding doing business in Russia/Former Soviet Union ('FSU') and emerging markets. Notable recent litigation cases involved successfully resisting a USD 13 billion injunction application in the High Court; successfully obtaining an ex parte Anti Suit order to restrain proceedings in Russia to protect the client's right to LCIA arbitration; defeating a defendant's contractual defences in an LCIA preliminary issues hearing in relation to a USD 1.6 billion claim; a shareholders' dispute regarding 600m USD asset in Russia which involved SCC arbitration proceedings and related interim injunctions in the BVI and Cyprus; shareholders' arbitration dispute relating to a Russian bank involving numerous Cypriot and High Court injunctions, shareholders' arbitration dispute regarding a CIS coal mine, contractual disputes regarding oil commodities. Yuri often acts in concert with lawyers from across the FSU/Middle East/India/Africa to provide access to international dispute resolution solutions for clients.

FERAS EL HAJJAR

Founder & CEO of App4Legal

Feras El Hajjar, Founder & CEO of App4Legal, Founder & Chairman of Infosysta, with more than 18 years of multi-national experience leading teams in Paris, Singapore, Dublin, Beirut, London, New York & Dubai. Feras is a Tech expert with solid management and leadership skills; graduated from Ecole ParisTech & Paris Dauphine in France.

Since 2019, Feras has been running App4Legal, a Legal Tech Software Editor specialised in innovation of legal practice management & contract lifecycle automation for in-house legal teams, law firms and other industries, with a global outreach. Driving success for a large client base present in 65+ countries, Feras is leading a dynamic team of Legal Tech Experts cementing App4Legal as a strong legal-tech disruptor for the entire market, and expanding at high speed globally.

Feras is also the Chairman of a multi-national Digital Transformation Group, Infosysta, implementing large-scale digital transformations for Banks, Telcos, Groups, Governmental and other tier-1 accounts.

Feras is a permanent speaker at Agile Summits, Legal Tech Conferences and an active contributor to the legal community & its tech ecosystem.

Feras sits on the Advisory Board of a couple of large institutions in EMEA. He is a strong believer in driving change through educating young legal practitioners and professionals, worldwide, about the crucial need to implement legal technology in the evolving landscape. In March 2020, Feras was nominated by InsightsSuccess as one of "The 10 Most Inspiring CEOs to Watch".

KHALED AL RASHED

Founder of Oqood.ai

A visionary legal strategist merging legal proficiency with technology and innovation. He holds a Bachelor's in Law from the University of Sharjah and a Master's in Corporate Law from Ajman University, supplemented by advanced studies at MIT and ESADE in Legal Technology, Digital transformation, innovation & leadership.

His innovative contributions include collaborating on the Booking.com AI Trip Planner project at the University of Helsinki's Legal Design Summit, and the IP & Intangible Assets research circle at Dubai gov. Design lab.

Khaled is the founder of oqood ai, the first Arabic AI legal tech product in the MENA region. He also serves as a mentor and speaker, sharing his insights on business, technology and franchising. His commitment to community and talent development is evident in his roles as President of the Kuwait Alumni Association at the University of Sharjah.

ABDULWAHAB AL-ESSA

Member of Parliament

Abdulwahab is an elected Member of the Kuwaiti Parliament. He is a young Kuwaiti with many achievements, most notably the establishment of Boutiqaat.com the largest tech company in Kuwait's history and one of the largest Social Commerce concepts in the world. He founded OMEDIA Company, the first social media influencer marketing agency in the Middle East. He's an active member of the Kuwaiti Journalists Association, a member of the New-Kuwait Group which is part of the Supreme Committee for the Marketing of Government Projects and an active Political TV programs presenter since 2007.

Abdulwahab holds a Bachelors in Political Science. With a robust skill set that includes Social Media, Social Media Marketing, Digital Media, Online News, Television News and more, Abdulwahab Alessa contributes valuable insights to the industry.

SALEH SALEH AL-SELMI

Chairman of the Kuwait Union of Investment Companies

He currently holds the position of Chairman of the Board of Directors of the Union of Investment Companies in Kuwait. He has more than 35 years of experience in providing financial advisory, portfolio management, and asset management services, and experience in issuing guarantees and dealing in futures contracts for companies. He is also an expert in local and international investments related to asset management operations, funds, portfolios and direct investments.

He is considered one of the active figures in the Kuwait Stock Exchange. He holds several administrative and executive positions on the boards of directors of several companies, most notably Chairman of the Board of Directors of the International Financial Consulting Company and IFA Financial Services Company, and Vice Chairman of the Board of Directors of the First Takaful Insurance Company and the Kuwait Insurance Federation.

He holds a Bachelor of Commerce in Business Administration and Finance from Kuwait University.

VIRGINIE COLAIUTA

Partner, LMS Legal LLP

Virginie Colaiuta is a Partner in the London office of the boutique law firm LMS Legal LLP. Virginie has versatile experience as she studied and worked in several different jurisdictions, including Canada, France, Italy, the United States and the United Kingdom.

Virginie is admitted to practice as a Solicitor in England & Wales, as Avocat à la Cour in Paris (France) and as Attorney at Law in New York (NY, USA). She has a law degree from Italy (the University of Rome "La Sapienza"), where she practiced for a few years.

As a result of her experience, she has an excellent understanding of the laws applicable to construction projects in civil law and common law jurisdictions.

She acts as counsel, advocate and arbitrator in international arbitration proceedings deriving from construction and energy projects, also based on investment treaties. She is a Visiting Fellow of King's College London, where she regularly lectures on "Investment Treaty Protections" and "Conflicts of Laws" relating to construction projects.

She has been appointed as the Co-Chair of the International Construction Projects Committee of the International Bar Association for the coming two years.

MESHAL AL-KHANNA

Co-founder of Awaed Law Firm
Vice President of Corporate and Professional Affairs at the Kuwait Bar Association

Meshal Saad Alkhannah is a Kuwaiti lawyer registered at the Constitutional and Distinction court. In 2010, he Graduated from The University of Sharjah – Law School. He has worked in various fields of law and has been practicing the legal profession since 2010.

He was elected to the Board of Directors of the Kuwaiti Lawyers Association and obtained his membership for the years 2015-2023 and was recently re-elected for the term 2023/2025. He served as the Director of the Arbitration Center at the Kuwaiti Lawyers Association for the year 2016/2017. Meshal is also a member of the Community Service Committee of the Kuwaiti Lawyers Association and a member of the Coordination Committee of the Public Benefit Associations in Kuwait. He Participated in the World Arbitration Conference in Qatar and in the Arab Lawyers Union in Egypt – Sharm Alsheikh.

FERAS TAHER

Manager, Capital Project Management Inc.

Feras Taher is an experienced construction professional with over 12 years of expertise in claims analysis, critical path method (CPM) scheduling techniques and damages evaluations. He has evaluated claims totaling over $3 billion and has represented architects, contractors, engineers and contractors in large-scale capital construction projects, including civil and industrial engineering projects, bridges and interchanges, government facilities, high-rise buildings (skyscrapers), highways, hospitals, land reclamations, Marine construction, military defense and housing projects, Metro (subway) projects, oil and gas refineries, railway, research centers, and stadiums, throughout the US, UK, Canada, and the Middle East. He has also lectured on scheduling, delay and disruption, and regularly prepares expert reports and presentations. Feras is fluent in English, Arabic and has working knowledge of Russian.

DAKHIL AL-DAKHIL

CEO, Rasameel

As the CEO of Rasameel, Dakhil is deeply fascinated by disruption and the unfolding future. With 20 years of experience in the alternative sector and a recent focus on Venture Capital, Dakhil is a CFA charter holder, embodying his commitment to excellence in finance.

His visionary leadership, combined with a dedication to incorporating technology for providing authentic human-centric services, is driving innovation and shaping the future of finance at Rasameel.

WALEED K. AL-SHARIAN

Chief Executive Officer, Mabanee Company (K.P.S.C)

Waleed Alsharian holds a bachelor's degree in industrial engineering from North Carolina Agriculture & Technical State University, USA (1984).

Work Experience and Previous Positions: Over 39 years of professional experience in real estate development, operation, manufacturing, project planning, property management, investment, sales, marketing fields and public transport sectors.

Waleed Alsharian started his career in 1984 with the Kuwait Public Transport Co (KPTC) ended up in 2001 as Assistant Managing Director – Operations. In 2001, he joined the Transport & Warehousing Group Co. KSC (TWG) as General Manager till 2004.

In 2004, he moved to Global Logistic & Warehousing Co, a company as Assistant to General Manager till March 2005, when Waleed was undertaking the position of Vice Chairman, Managing Director & General Manager of the Refrigeration Industries & Storage Co S.A.K (RISCO), In November 2006, he has been appointed in Mabanee Company and has been promoted up to CEO position till present.

Current Positions:

– Chief Executive Officer, Mabanee Company
– Chief Executive Officer, Shomoul Holding Company
– Director of Al Sorouh Management Company
– General Manager of Mabanee Bahrain Company
– Chairman of Al Rai Logistica Company
– Member of Kuwait Society of Engineers
ORGANISER
OUR PARTNERS & SPONSORS
LEXISNEXIS EXCLUSIVE PARTNER IN KUWAIT
PARTNER
| | | |
| --- | --- | --- |
| | | |
GOLD SPONSOR
BRONZE SPONSORS
MEDIA SPONSORS
We're sorry, but all tickets sales have ended because the event is expired.
Kuwait Business Law Forum 2023 - 7th Edition


23/11/2023




8:30 AM - 2:30 PM