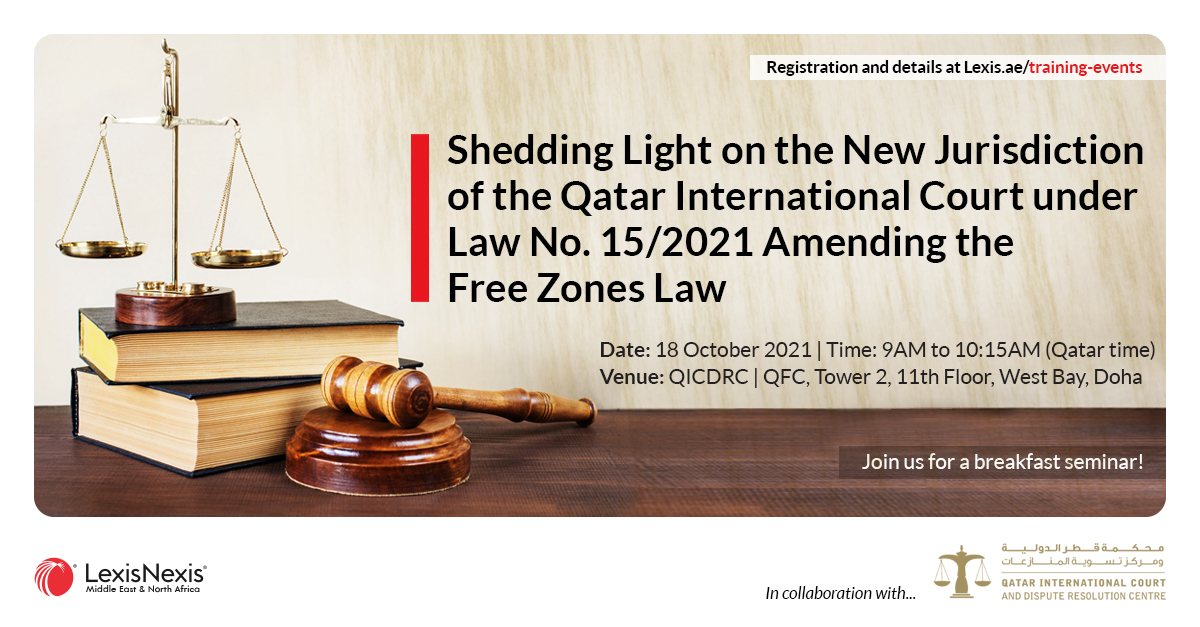 OVERVIEW
Recently adopted Qatar Law No. 15/2021 has expanded the jurisdiction of the Qatar International Court to include disputes arising in Qatar's Free Zones. Join LexisNexis Middle East in partnership with our Strategic Alliance Partner, the Qatar International Court and Dispute Resolution Centre (QICDRC) for a breakfast seminar on how the Qatar International Court will be affected by this expanded jurisdiction, what these amendments will mean for companies doing business in Qatar's free zones, and what exemptions apply.
PROGRAMME 
08:30AM to 09:00AM – Breakfast, Networking and Registration

09:00AM to 09:45AM – Presentations by Christopher Grout & Huw Davies

09:45AM to 10:15AM – Questions & Answers

10:15AM  – End of Seminar  
SPEAKERS
Christopher Grout, Registrar, Qatar International Court
Huw Davies, Senior Legal Counsel, Qatar Free Zones Authority
Kindly note that spaces are limited. By registering, you confirm your attendance. If you are no longer able to attend, please contact Leila Saidi by email (leila.saidi@lexisnexis.fr).
IN COLLABORATION WITH
We're sorry, but all ticket sales have ended.
Address:
QFC Tower 2, 11th Floor
, Omar Al Mukhtar St, West Bay,
Doha
,
Qatar
Description:

Qatar International Court and Dispute Resolution Centre, 11th Floor, QFC Tower 2, Omar Al Mukhtar Street, West Bay
Breakfast Seminar - Shedding Light on the New Jurisdiction of the Qatar International Court under Law N°. 15/2021 amending the Free Zones Law


18/10/2021




10:00 (Gulf Standard Time) - 11:15 (Gulf Standard Time)