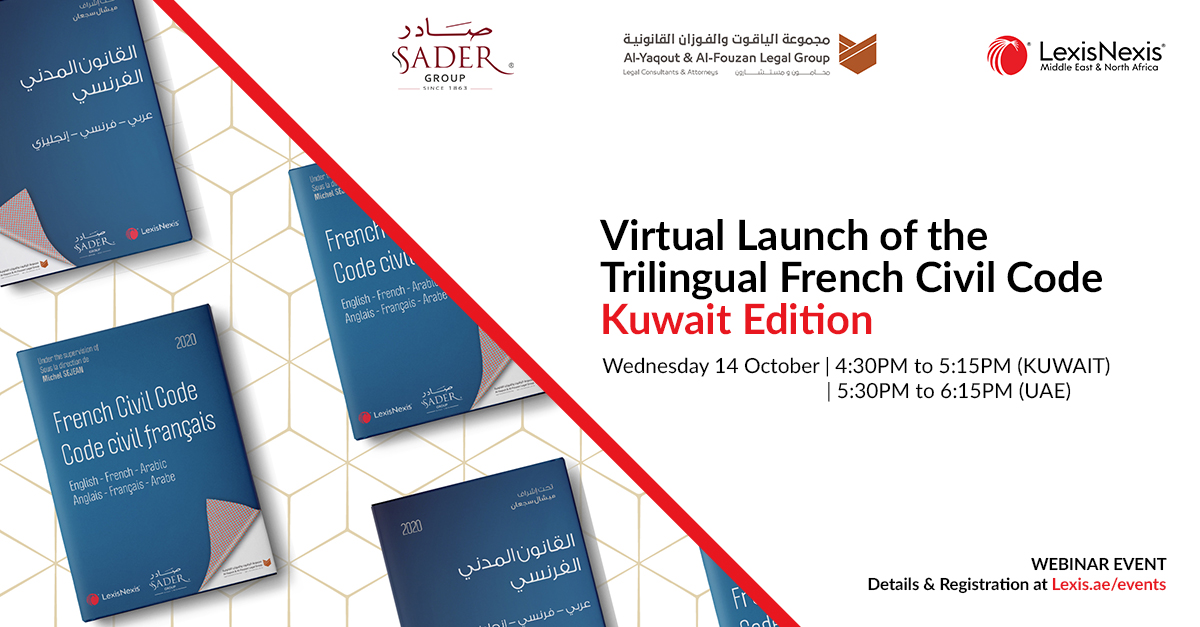 OVERVIEW
LexisNexis, Sader Publishing and Al-Yaqout & Al-Fouzan Legal Group are pleased to invite you to the virtual launch of the first trilingual French Civil Code (Arabic – French – English), on Wednesday 14 October at 4:30 pm (Kuwait time).
The French Civil Code has left its mark in the MENA region. It influenced the work of several famous Arab legal scholars such as Youssef Wahba Pasha in Egypt, who was the first person, in the late 19th century, to translate the Napoleonic Code into Arabic. The French Civil Code also inspired the famous jurist Abdel Razzaq Al Sanhouri in his work on the Egyptian, Iraqi, Syrian, Jordanian, Libyan and Kuwaiti Civil Codes, as well as the work of Choucri Cardahi on the Lebanese Code of Obligations and Contracts in the 1930's.
Accessing the most updated version of the French Civil Code that incorporates the recent reform of the law of obligations, should prove to be particularly useful to many legislators, academics, researchers, students and practitioners in the MENA region. To make sure that language is no barrier, LexisNexis and Sader Publishing, in partnership with Alyaqout & Alfouzan Legal Group, exclusive sponsor of the Kuwait edition, have taken the initiative to combine in one book, an English and Arabic translation of the entire French Civil Code in order to make the concepts accessible to as many people as possible – especially common law trained lawyers.
This trilingual publication is unique and therefore, has no equivalent on the market. Join us on October 14th for an online launch event of the first trilingual French Civil Code to learn more about the editorial process and the Arabic and English translations of the Code, from the inception of the project to the publication of the book.
.
SPEAKERS
Guillaume Deroubaix

– CEO, LexisNexis MENA

Rany Sader – CEO, Sader Group
Khalifah Alyaqout – Chairman, Al-Yaqout & Al-Fouzan Legal Group
Lara Salem – Director of Legal Knowledge, Sader Group
Michel Séjean – Professor, Université Bretagne Sud, Supervisor of the Publication
.
.
IN COLLABORATION WITH
.
We're sorry, but all tickets sales have ended because the event is expired.
Virtual Launch of the Trilingual Civil Code - Kuwait Edition


14/10/2020




5:30 PM - 6:15 PM