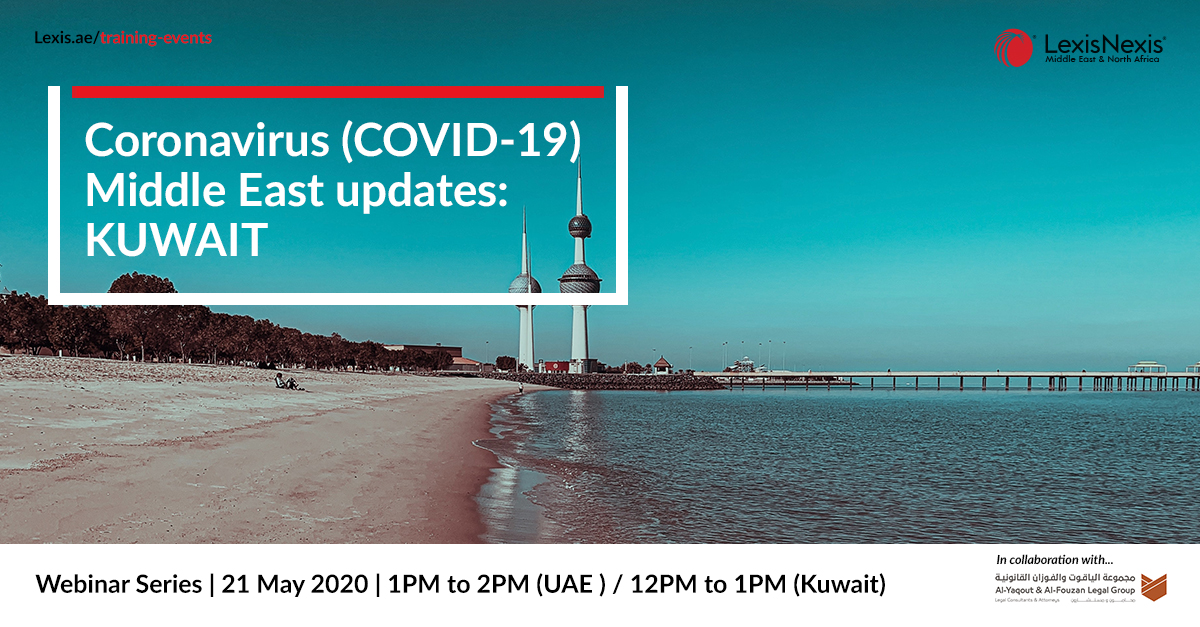 CORONAVIRUS (COVID-19) MIDDLE EAST UPDATES – KUWAIT
LexisNexis continues to support the legal community during this difficult time. With the heightened interest in the spread of Coronavirus (COVID-19) and the increasingly fast changes and developments experienced across the Middle East, LexisNexis is implementing a regular update on how each GCC country is responding to the pandemic and what these measures mean to businesses and individuals.
Join LexisNexis and AlYaqout & AlFouzan Legal Group on 21 May from 1PM to 2PM (UAE time) / 12PM to 1PM (Kuwait time) for an update on legal developments in Kuwait where we will discuss:
Measures adopted by the Kuwaiti Government in efforts to contain the outbreak of COVID-19
Effects of COVID-19 on Legislation and Regulations in Kuwait

Litigation and Dispute Resolution
Banking and Finance
Foreign Direct Investment
Projects
Agencies, Franchises and Distributorships
Health and Safety
Expert: Nadyn Saleh, Senior Associate, Al-Yaqout & Al Fouzan Legal Group
IN COLLABORATION WITH
LEXISNEXIS MIDDLE EAST – CORONAVIRUS (COVID-19) INSIGHTS
The LexisNexis Middle East team has developed the following Coronavirus (COVID-19) insights addressing emerging issues across a variety of practice areas.
Kits
COVID-19 Toolkit (for subscribers) (access here)
Free COVID-19 Resource Kit (1) (access here)
Free COVID-19 Resource Kit (2) (access here)
Commentary
Coronavirus and the potential application of the concept of Force Majeure in the GCC – Dr. Talal Aladwani
UAE insolvency landscape post COVID-19 pandemic – Peter Bowring
Measures taken by Saudi Arabia to combat COVID-19 – Dr. Qaisar H Metawea & Lamisse Bajunaid
Amendments to the Kuwait Law of Civil and Commercial procedures –  Dr. Talal AlAdwani
Catching COVID-19 deemed force majeure by French court – Prof. Luc Gynbaum
Coronavirus and the Rule of Law: A Warning From History – Ian McDougall
Practice Notes
COVID-19: Challenges for the Legal Profession
The legal consequences of COVID-19 on your contracts: Force Majeure in different jurisdictions and industries
Checklists & Flowcharts
Key Operational & VAT aspects Businesses in the GCC should consider in response to the COVID-19 crisis – Checklist
COVID-19 and Data Privacy (Oman) – Checklist
COVID-19: Navigating the new world of working remotely, self-isolation and sick pay – Flowchart
Q&A Guides
COVID-19: How to Lead Through Change – Q&A
COVID-19 and UAE property law
What will the legal landscape look like post COVID-19 and what should we expect from a business perspective?
Precedents
Force Majeure Clause
Force Majeure and Business Continuity Clause
Legal News
Lexis Middle East subscribers have access to our daily news stream, which includes COVID-19 legal updates. These updates can be accessed here or in the 'Legal News' module of Lexis Middle East.
LexisNexis MENA COVID-19 Blog
The LexisNexis Middle East team has also launched a blog on developments on COVID-19 in the Middle East, which can be accessed here.
LexisNexis Global Coronavirus (COVID-19) Resource Kits
Readers can also access direct links (here) to the LexisNexis Global COVID-19 Resource Kits from our teams in USA, UK, Canada, France & Australia.
We're sorry, but all tickets sales have ended because the event is expired.
Coronavirus (COVID-19) Middle East Updates - Kuwait (2nd edition)


21/05/2020




1:00 PM - 2:00 PM