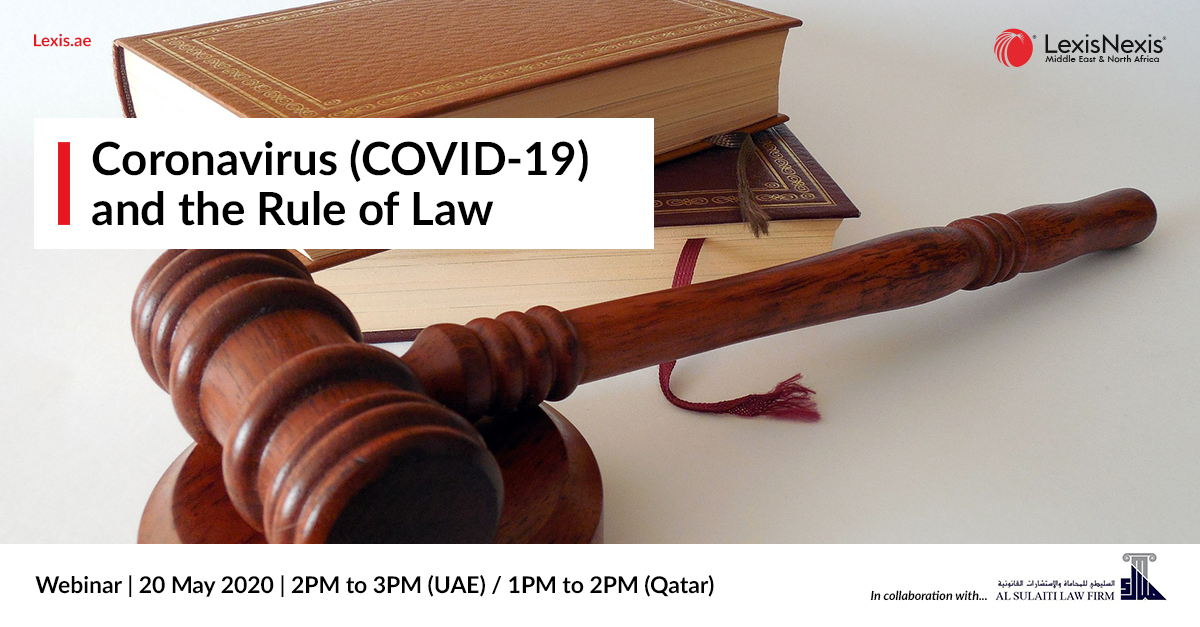 CORONAVIRUS (COVID-19) AND THE RULE OF LAW
Join LexisNexis and Al Sulaiti Law Firm on 20 May 2020 from 2PM to 3PM (UAE time) / 1PM to 2PM (Qatar time) for a webinar where Mathieu Faupin will discuss Coronavirus (COVID-19) and the Rule of Law. During the session, Mathieu will look at:
Rule of law toolkits and guidelines of regional and international organisations:

Organisations, such as the European Union or the UN, issued several documents that are aimed at guiding states members during the outbreak in order to safeguard human rights and individual liberties.

Time of emergency and derogation in a time of emergency.
Respect of the rule of law and relevant human rights standards.
Expert: Mathieu R. Faupin, Head of International Department and Senior Legal Consultant, Al Sulaiti Law Firm
IN COLLABORATION WITH:
LEXISNEXIS MIDDLE EAST – CORONAVIRUS (COVID-19) INSIGHTS
The LexisNexis Middle East team has developed the following Coronavirus (COVID-19) insights addressing emerging issues across a variety of practice areas.
Kits
COVID-19 Toolkit (for subscribers) (access here)
Free COVID-19 Resource Kit (1) (access here)
Free COVID-19 Resource Kit (2) (access here)
Commentary
Coronavirus and the potential application of the concept of Force Majeure in the GCC – Dr. Talal Aladwani
UAE insolvency landscape post COVID-19 pandemic – Peter Bowring
Measures taken by Saudi Arabia to combat COVID-19 – Dr. Qaisar H Metawea & Lamisse Bajunaid
Amendments to the Kuwait Law of Civil and Commercial procedures –  Dr. Talal AlAdwani
Catching COVID-19 deemed force majeure by French court – Prof. Luc Gynbaum
Coronavirus and the Rule of Law: A Warning From History – Ian McDougall
Practice Notes
COVID-19: Challenges for the Legal Profession
The legal consequences of COVID-19 on your contracts: Force Majeure in different jurisdictions and industries
Checklists & Flowcharts
Key Operational & VAT aspects Businesses in the GCC should consider in response to the COVID-19 crisis – Checklist
COVID-19 and Data Privacy (Oman) – Checklist
COVID-19: Navigating the new world of working remotely, self-isolation and sick pay – Flowchart
Q&A Guides
COVID-19: How to Lead Through Change – Q&A
COVID-19 and UAE property law
What will the legal landscape look like post COVID-19 and what should we expect from a business perspective?
Precedents
Force Majeure Clause
Force Majeure and Business Continuity Clause
Legal News
Lexis Middle East subscribers have access to our daily news stream, which includes COVID-19 legal updates. These updates can be accessed here or in the 'Legal News' module of Lexis Middle East.
LexisNexis MENA COVID-19 Blog
The LexisNexis Middle East team has also launched a blog on developments on COVID-19 in the Middle East, which can be accessed here.
LexisNexis Global Coronavirus (COVID-19) Resource Kits
Readers can also access direct links (here) to the LexisNexis Global COVID-19 Resource Kits from our teams in USA, UK, Canada, France & Australia.
We're sorry, but all tickets sales have ended because the event is expired.
Coronavirus (COVID-19) and the Rule of Law


20/05/2020




2:00 PM - 3:00 PM