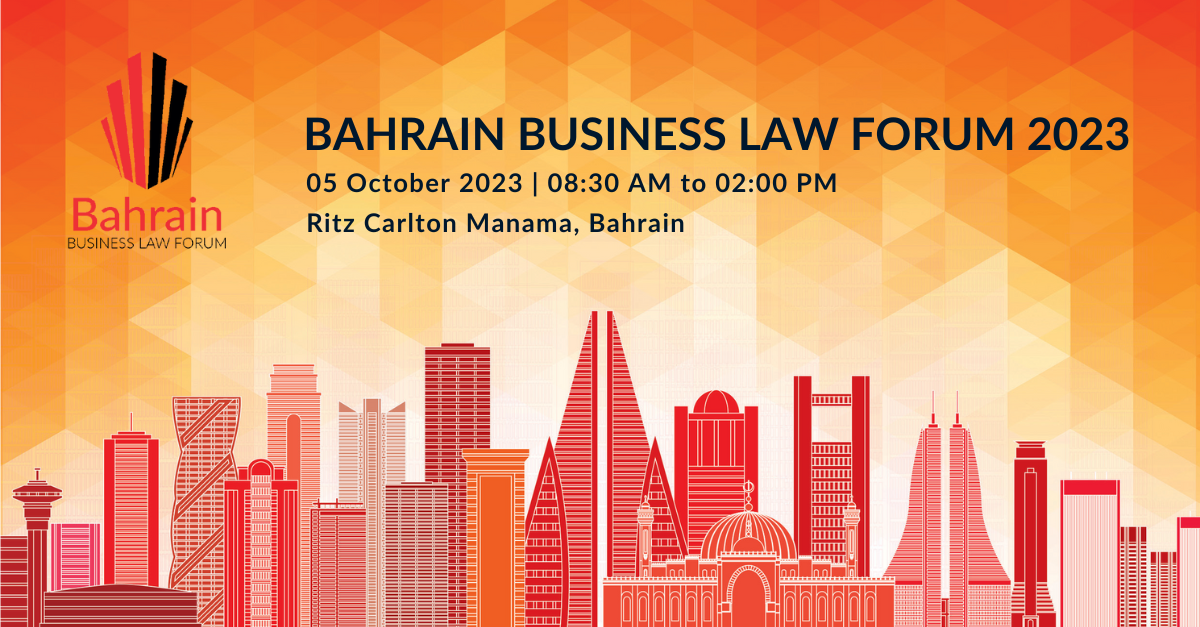 Event Phone: +971-58-824-9821
Join us in Bahrain on 5 October 2023 for the Bahrain Business Law Forum 2023!
The Law Forum is exclusively for Bahrain's in-house counsel community.
The Bahrain Business Law Forum is coming! After the incredible success of our previous events in Qatar, Kuwait, and Oman, we are thrilled to bring you the next installment of legal excellence. Get ready for the latest legal developments and trends in Bahrain!
Connect with Leading Professionals as this forum will gather the best minds from the Bahraini legal and business community. It is your chance to network, build valuable connections, and strengthen existing client relationships.
Mark your calendar and don't miss this fantastic opportunity!
Stay tuned for more updates on this exclusive event. See you there!
For more information or sponsorship queries, contact Malini Dean.
*Registrations will be open for in-house counsels only.
AGENDA
08:30 AM
 Registration, Breakfast & Networking 
09:00 AM
  Welcome Remarks by LexisNexis
09:10 AM
 What In-House Counsel (Really) Want

 Moderator: Qays H. Zu'bi – Chairman, Zu'bi & Partners

 Panelists: Afshan Akhtar – Chief Legal Counsel, Bahrain Petroleum Company
                    Zaid Yusuf Khonji – Head – Legal & Corporate Governance, National Bank of Bahrain
                    Reem Al Alawi – Chief Legal & Monitoring Officer, Tamkeen
                    Nadia Aqeel – Chief Legal, Regulatory and Compliance Officer, Zain Bahrain

10:00 AM
 Coffee & Networking
10:30 AM
 Commercial Court Proceedings in the English Language and the Use of Private Experts

Commercial Court Proceedings in the English language
Using Private Experts in the Commercial Court

 Moderator: Simone Del Nevo– Head of Legal, SICO BSC

 Panelists: Steven Brown – Partner, ASAR
                  Amal Lari – Senior Associate, ASAR
                  Hisham Al Qura'an – Partner, ASAR

11:15 AM
 Issues & Trends in Alternative Dispute Resolution

Bahrain as a Seat for International Commercial Arbitration
The Obligation of Good Faith in ADR
Insolvent Contractors – How to Best Deal with Project Disputes

 Moderator: Dr. Amel Abdallah – Associate Professor of Law, Bahrain University

 Panelists: Saad Al Doseri – Founding Partner, Al Doseri Law
                  Dr. Ameera Alqayem – Partner, Hadi Alalawi & Partners
                  Paula Boast – Partner, Charles Russell Speechlys

12:00 PM
 Coffee & Networking
12:30 PM
 AI & the Future of the Legal Profession

AI Products Available (or that will Soon be Available) in the Legal Sector
The Risks and Opportunities of AI
The End of the Billable Hour?
The Effects of Generative AI on the Legal Industry
How Lawyers can take Advantage of ChatGPT and other Large Language Models Disrupting the Legal Industry
AI's Susceptibility to Bias and Errors

 Moderator: Ameen AlTajer – CEO of INFINITEWARE

 Panelists: Vincent Slingerland – Deputy Head of Sales, LexisNexis Middle East
                   Saad Al Doseri – Founding Partner, Al Doseri Law
Nishanth Kumar Pathi – AI Expert & Technical Trainer, Bahrain Institute of Banking & Finance
Hatim Q. Zu'bi – Managing Partner, Zu'bi & Partners

01:15 PM
 Lunch – please join us!
GOLD SPONSORS
BRONZE SPONSORS
We're sorry, but all ticket sales have ended.
Venue Phone: +973 1758 0000
Address:
Al Seef District، Building 112, King Mohammed VI Ave
,
Manama
,
Bahrain
Bahrain Business Law Forum 2023 - 2nd Edition


05/10/2023




8:30 AM - 2:00 PM