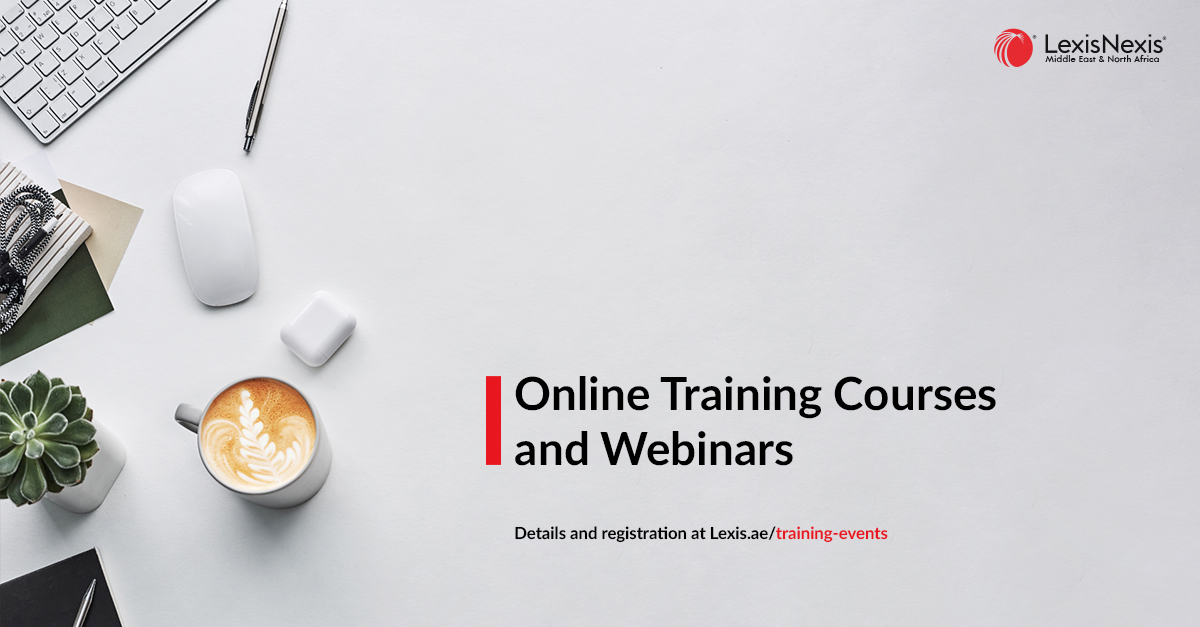 Practitioners registered with the Dubai Legal Affairs Department (DLAD) will earn 2 CLPD Points for attending the training!
نظرة عامة
انضم إلى ليكسس نيكسس الشرق الأوسط وأكاديمية مركز دبي المالي العالمي لحضور جلسة التدريب الاستهلالية حول "الأدوات التكنولوجية للمحامين" باللغة العربية. سنعرض من خلال هذه الجلسة نظرة عامة على الأنواع المختلفة من التقنيات المتوفرة حالياً والمستخدمة في المجال القانوني في مختلف أنحاء العالم، كما سنقدم لكم ارشادات حول تعزيز استعمال الأدوات التي قد تكون متوفرة في شركاتكم حالياً وجاهزة للاستخدام. سيقدم هذه الجلسة السيد/ حسين هادي حيث سيستعرض ما يلي:
 اعتماد التقنيات القانونية من قبل فرق العمل القانونية؛ –
 اعتماد التقنيات القانونية داخل شركات المحاماة؛ –
 ما هي الأدوات المتوفرة حالياً وما هي الأدوات المناسبة لك ومن أين تبدأ؟ –
مكاسب سريعة: كيف يمكنكم أن تكونوا  أكثر كفاءة فوراً مع وجود ميزانية محدودة وتقنيات جاهزة للاستخدام؟ –
 أحدث التوجهات العالمية بخصوص التقنيات القانونية. –
 دراسة حالات عن اعتماد التقنيات القانونية في دول مجلس التعاون الخليجي. –
الهدف من هذه الجلسة التدريبية
هذه الجلسة سوف توسع وتطور مهارات المشتركين فيما يتعلق باستخدام الأدوات التكنولوجية كما ستعزز استعمالهم اليومي لتلك الأدوات وستساعدهم على تحسين الخدمات التي يقدمونها لعملائهم.
المتحدث في هذه الجلسة
حسين هادي – رئيس قسم النشر والتقنيات القانونية في ليكسس نيكسس الشرق الأوسط
بالتعاون مع
OVERVIEW
Join LexisNexis Middle East and the DIFC Academy for the Arabic edition of our introductory training session on Technology Tools for Lawyers. This session will provide an overview of the different types of legal technology currently available worldwide, while providing tips on leveraging tools that are readily available within most firms. The session will be presented by Hussain Hadi, during which he will look at:
Adoption of legal technology within in-house legal teams.
Adoption of legal technology within law firms.
What is available now and what might work for me? How do I get started?
Quick wins: how can I be more efficient today with limited budget and readily available technology?
Global trends in legal technology.
Case studies from GCC technology adoption.
OBJECTIVE
This session will expand and improve participants' skills in using technological tools, enhance their daily use of these tools, and enable the improvement of service provided to their clients.
SPEAKER
Hussain Hadi, Head of LexisNexis Publishing and Legal Technology, LexisNexis Middle East
IN COLLABORATION WITH
We're sorry, but all tickets sales have ended because the event is expired.
Fundamental Course: Technology Tools for Lawyers (Arabic Edition)


04/10/2021




9:30 AM - 11:30 AM