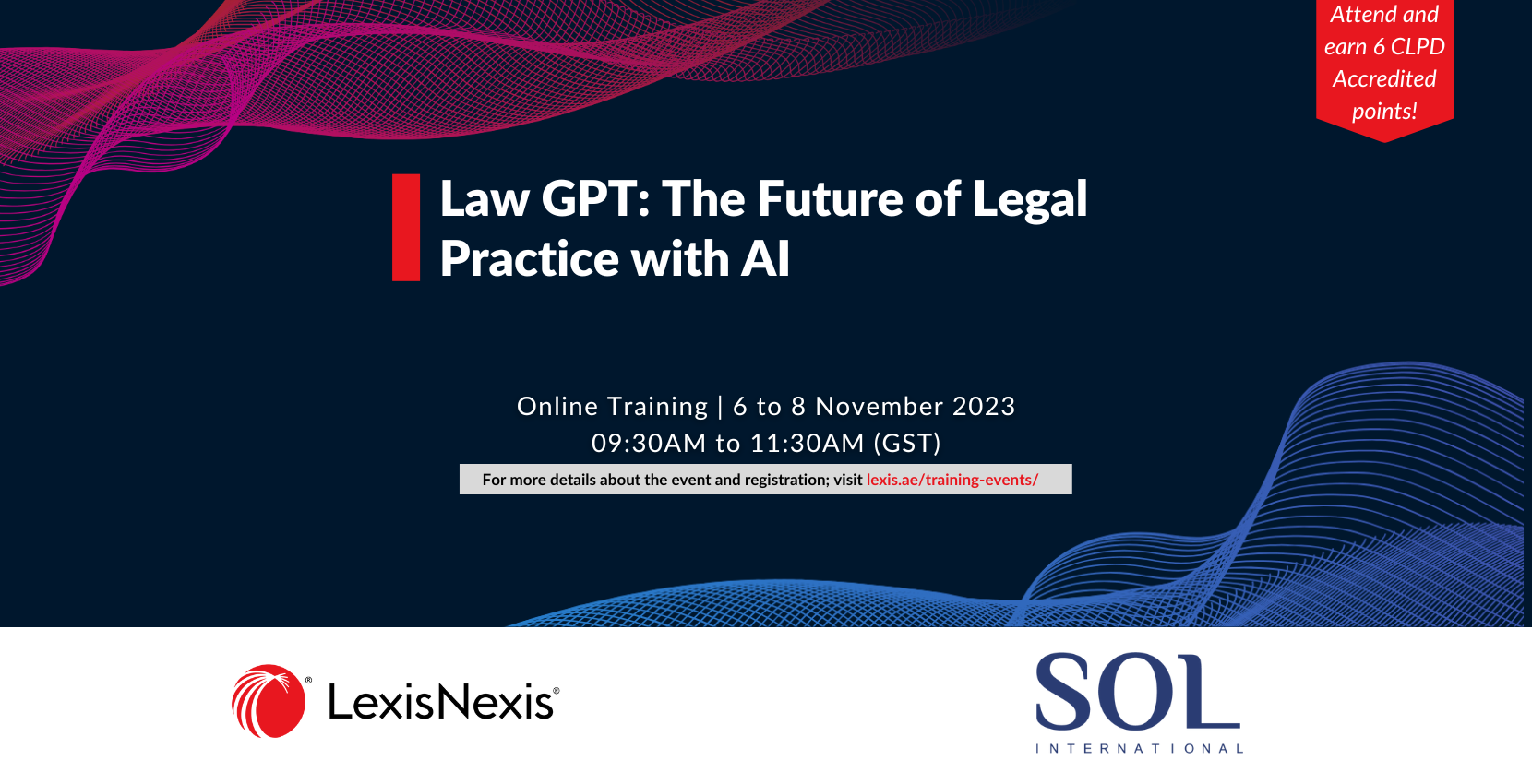 Join our Law GPT: The Future of Legal Practice with AI! 
Attend the training and earn up to 6 Accredited CLPD points!
SERIES OVERVIEW
Join LexisNexis Middle East and SOL International Ltd
Legal Practice has been revolutionized with the incorporation of Artificial Intelligence. From automating tedious and time-consuming legal research, analysis, and organization of contracts to predicting judicial outcomes, law firms have undergone a complete change in the manner client's best interests are served. The interactive training through a mix of discussion and practical exercises involving the use of AI tools and algorithms in a stimulated legal environment, will reflect on its current efficiency while foreseeing its potential risks and regulations.
Join LexisNexis Middle East and SOL International Ltd for an online training session where our experts aim to:
Explain the current state of AI in Law
Elaborate on the changing role of lawyers and legal training with AI
Explore its potential in modernizing judicial systems, legal practices, and the future of legal work
PROGRAMME
Name
Event Start
Event End
Day 1
Course 1: Introduction to AI in Law
• Definition of AI in Law• Benefits and limitations of AI in Law• Applications of AI in Law• Case studies and examples of AI in Law
2023-11-06 09:30 am
2023-11-06 11:30 am
Day 2
Course 2: Using AI in Judicial Systems and AI in Legal Practice

• AI tools for legal research and analysis

• AI-assisted legal document (including contracts) generation, review, and analysis

• AI-powered predictive analytics in legal cases

• Ethical and legal considerations in using AI in judicial systems

• Use cases of AI in legal practice

2023-11-07 09:30 am
2023-11-07 11:30 am
Day 3
Course 3: The Future of Legal Work

• AI and the changing role of lawyers

• Implications of AI on legal education and training

• Legal tech startups and innovations

• Future directions for AI in Law 

2023-11-08 09:30 am
2023-11-08 11:30 am
SPEAKER
Sarah Malik;  CEO & Founder, SOL International Ltd

TARGET AUDIENCE
The series is aimed at all legal professionals.

CERTIFICATION
Participants who will complete to full programme will receive a LexisNexis Middle East & North Africa Certificate of Completion.

IN COLLABORATION WITH
We're sorry, but all tickets sales have ended because the event is expired.
Law GPT: The Future of Legal Practice with AI


01/11/2023




9:30 AM - 11:30 AM

06/11/2023 - 08/11/2023




9:30 AM - 11:30 AM

06/11/2023 - 08/11/2023




9:30 AM - 11:30 AM

06/11/2023 - 08/11/2023




9:30 AM - 11:30 AM