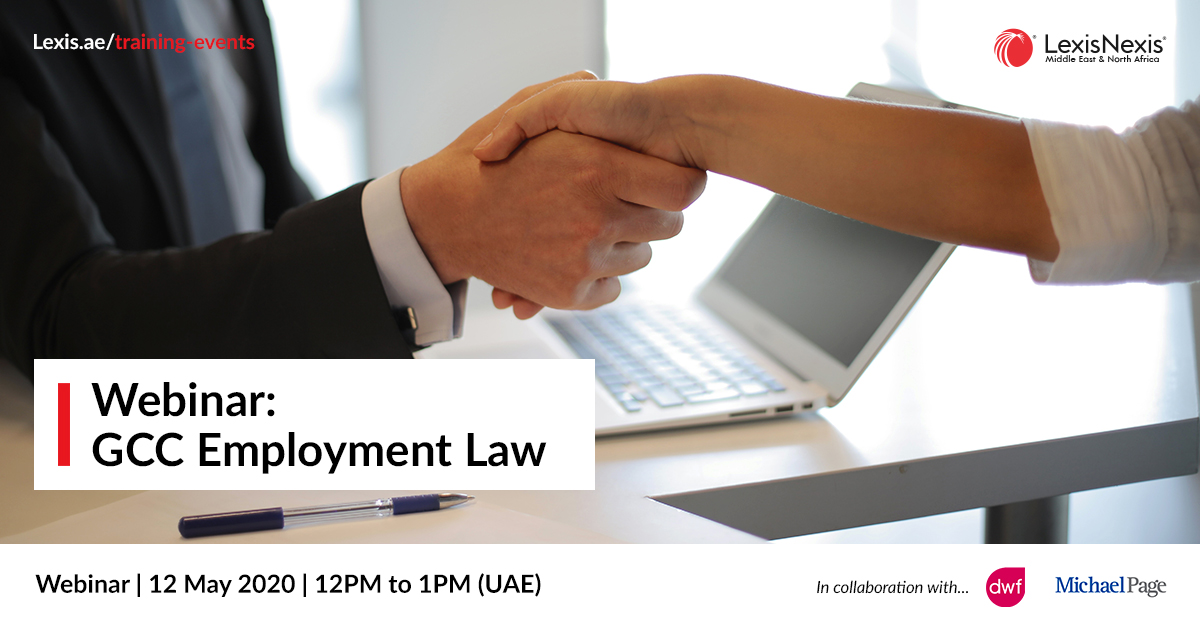 OVERVIEW
Employment is always a fast-moving area, but if you work in either law or HR in the Middle East and need to keep up with the employment legislation, you could be forgiven for being amazed by just how quickly things are evolving at present. After all, in the GCC in one year alone, we have seen significant changes to employment law in four separate jurisdictions.
For this reason, LexisNexis Middle East has partnered with DWF and Michael Page to produce a publication on Employment Law within the GCC.
This publication includes analyses of employment developments, trends within the GCC, and changes to the Employment Law and Market by professionals from DWF and Michael Page, including Shiraz Sethi, Jon Ede, Thenji Moyo and Hayley Wilkins. It also includes overviews of the Employment Law in GCC countries, as well as the relevant sections of law.
Join LexisNexis, DWF and Michael Page for a webinar on 12 May 2020 from 12PM to 1PM (UAE time), where we will highlight key topics from the publication and discuss the latest legal developments in Employment Law in the GCC, including:
How to stay abreast of new employment developments in the GCC
GCC employment trends
Changes in GCC employment law
We will be joined by:
Moderator
Thenji Moyo
UAE
Shiraz Sethi
Bahrain
Steven Brown
Kuwait
Edlyn Verzola
KSA
Anas Akel

Amgad Husein

Oman
Thamer Al Shahry

Q&A Session
Jon Ede

Hayley Wilkins
IN COLLABORATION WITH
Webinar: GCC Employment Law


12/05/2020




12:00 - 13:00