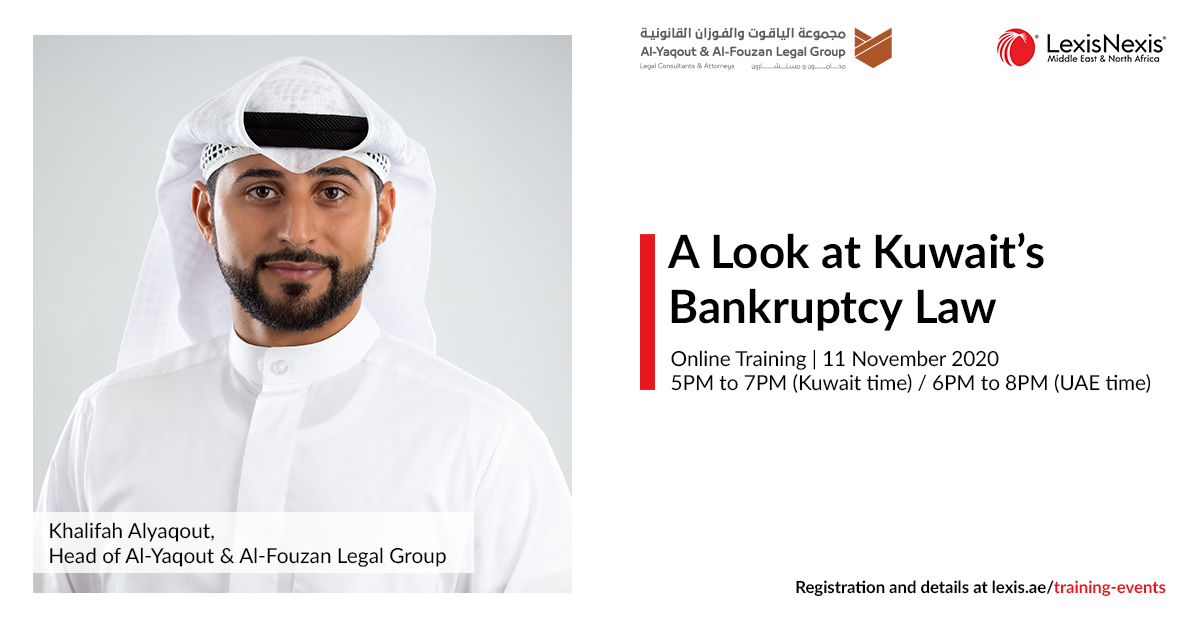 OVERVIEW
On 19 August 2020, an announcement was made that Kuwait's National Assembly has approved a bankruptcy law which will help troubled companies, give them legal protections and provide them with various options before they declare bankruptcy. This new law specifies two main ways out of trouble for a defaulting company.
Join LexisNexis Middle East and Al-Yaqout & Al-Fouzan Legal Group on 11 November 2020 from 5PM to 7PM (Kuwait time) / 6PM to 8PM (UAE time) for an online training session where our subject matter expert will explore this new law and provide an in-depth analysis of what this means for companies and lawyers. During the session, we will look at:
Key Regulations
Under the new law, what options do companies in distress have?
Rules around priority of creditors
Debt restructuring
SPEAKERS
Khalifah Alyaqout, Head of Al-Yaqout & Al-Fouzan Legal Group
.
LANGUAGE
.
الوصف
.في 19 أغسطس 2020، أقر مجلس الأمة الكويتي قانون الإفلاس الذي سيساعد الشركات المتعثرة ويعطيها حماية قانونية والذي يوفر للشركات خيارات مختلفة قبل إشهار إفلاسها
وعليه ستقيم مجموعة الياقوت والفوزان القانونية بالتعاون مع ليكسس نيكسس ميدل إيست دورة تدريبية عبر الإنترنت في 11 تشرين الثاني 2020 من الخامسة إلى السابعة مساءً (بتوقيت الكويت) / السادسة إلى الثامنة مساءً (بتوقيت الإمارات) حيث سيتناول الشريك المدير المحامي/ خليفة الياقوت المتحدث في هذا المجال أهم التطورات بهذا القانون ومنها
النظام القانوني –
ما هي الخيارات المتاحة للشركات المتعثرة في ظل القانون الجديد؟ –
القواعد بشأن الدائنين ذو الأولوية –
إعادة جدولة الديون –
اللغة
العربية
المتحدث
خليفة الياقوت، رئيس مجموعة الياقوت والفوزان القانونية
IN COLLABORATION WITH
.
We're sorry, but all tickets sales have ended because the event is expired.
A Look at Kuwait's Bankruptcy Law


11/11/2020




5:00 PM - 7:00 PM