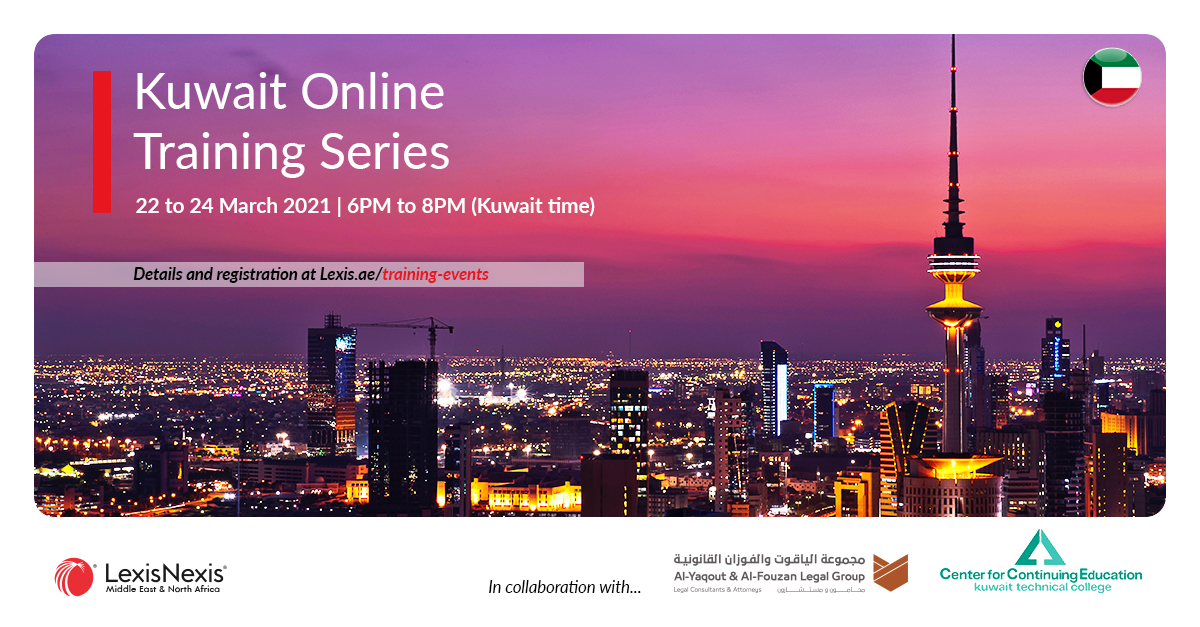 SERIES OVERVIEW
LexisNexis Middle East, Kuwait Technical College Center for Continuing Education and Al-Yaqout & Al-Fouzan Legal Group are pleased to invite you to join us for a three-part online training series* from 22 to 24 March 2021 from 6PM to 8PM (Kuwait time), details of which are provided below.
*Note: All sessions will be presented in Arabic.
Topic
Description
Date
Speaker
Session 1:

COVID-19 and Force Majeure in the GCC

Among businesses, one of the key issues to arise from the current global situation is the fulfilment of their contractual obligations. The outbreak of the Coronavirus (COVID-19) has resulted in a disturbance to trade, commerce and manufacturing due to lockdowns, quarantines, suspension of travel and cancellation of events on a global scale across all sectors. With no indication of when we will resume to operate as normal, businesses may want to consider force majeure as a legal option to mitigate the impact of the crisis on their business. This online training session that will shed light on questions emerging about contractual obligations and whether COVID-19 will constitute a force majeure event, with particular reference to the Kuwait and other GCC legal systems. In this training session, our subject matter expert discusses Force Majeure in Kuwaiti Contract Law and will look at:

What is force majeure?
Reviewing existing contracts

How does force majeure affect employment and employer obligations?

Notification and communications of the parties
Concept of frustration vs force majeure

22 March 2021 | 6PM to 8PM (Kuwait time)
Dr. Bashayer Al Majed, Assistant Professor, Kuwait University

Session 2:

Cyber Security and Cyber Crimes: Risks and Effective Protection Measures

In recent years organisations have been falling victim to Cyber Crime attacks in an ever-increasing number. It is therefore essential that organisations develop an understanding of the growing risks they are facing. This training session will provide an in-depth examination and analysis of:

Common forms of cyber crimes
What is cyber security and its importance

Insurance cover
Security measures

Assessing the risk to your business
Practical tips

Common pitfalls to avoid
What to do if the worst happens
Preparing for legal action in relation to a cyber security breach
Best practice for improving cyber resilience

During the training session, we will also look at:

Kuwait Law No. 63/2015 on Combating Cyber Crimes and its practical implementation
The Kuwait National Cyber Security Strategy 2017-2020 (1): Promoting a Culture of Cybersecurity & Safeguarding and Continuously Maintaining the security of national assets

23 March 2021 | 6PM to 8PM (Kuwait time)

Dr. Fayez Alkandari, Consultant, Boubyan Bank
Session 3:

Kuwait Electronic Transactions Law

Kuwait Law No. 20/2014 on Electronic Transactions became effective on 4 January 2015 and provides a set of provisions relating to the use of electronic communication as a lawful transactional mechanism in Kuwait. The Electronic Transactions Law provides legal certainty for electronic transactions and allows electronic commerce to operate on the same basis as paper transactions. During the training session the following topics will be covered:

Main provisions
Electronic payments, signatures and documents
Security and confidentiality
Data protection
Regulatory body

24 March 2021 | 6PM to 8PM (Kuwait time)­­­
Dr. Yousef Al-Yaqout, Assistant Professor, Faculty of Law – Kuwait University

Zainab Al-Mansouri, Associate Al-Yaqout and Al-Fouzan Legal Group
IN COLLABORATION WITH
We're sorry, but all tickets sales have ended because the event is expired.
Session 1: COVID-19 and Force Majeure in the GCC


22/03/2021




7:00 PM - 9:00 PM

Session 2: Cyber Security and Cyber Crimes: Risks and Effective Protection Measures


23/03/2021




7:00 PM - 9:00 PM

Session 3: Kuwait Electronic Transactions Law


24/03/2021




7:00 PM - 9:00 PM