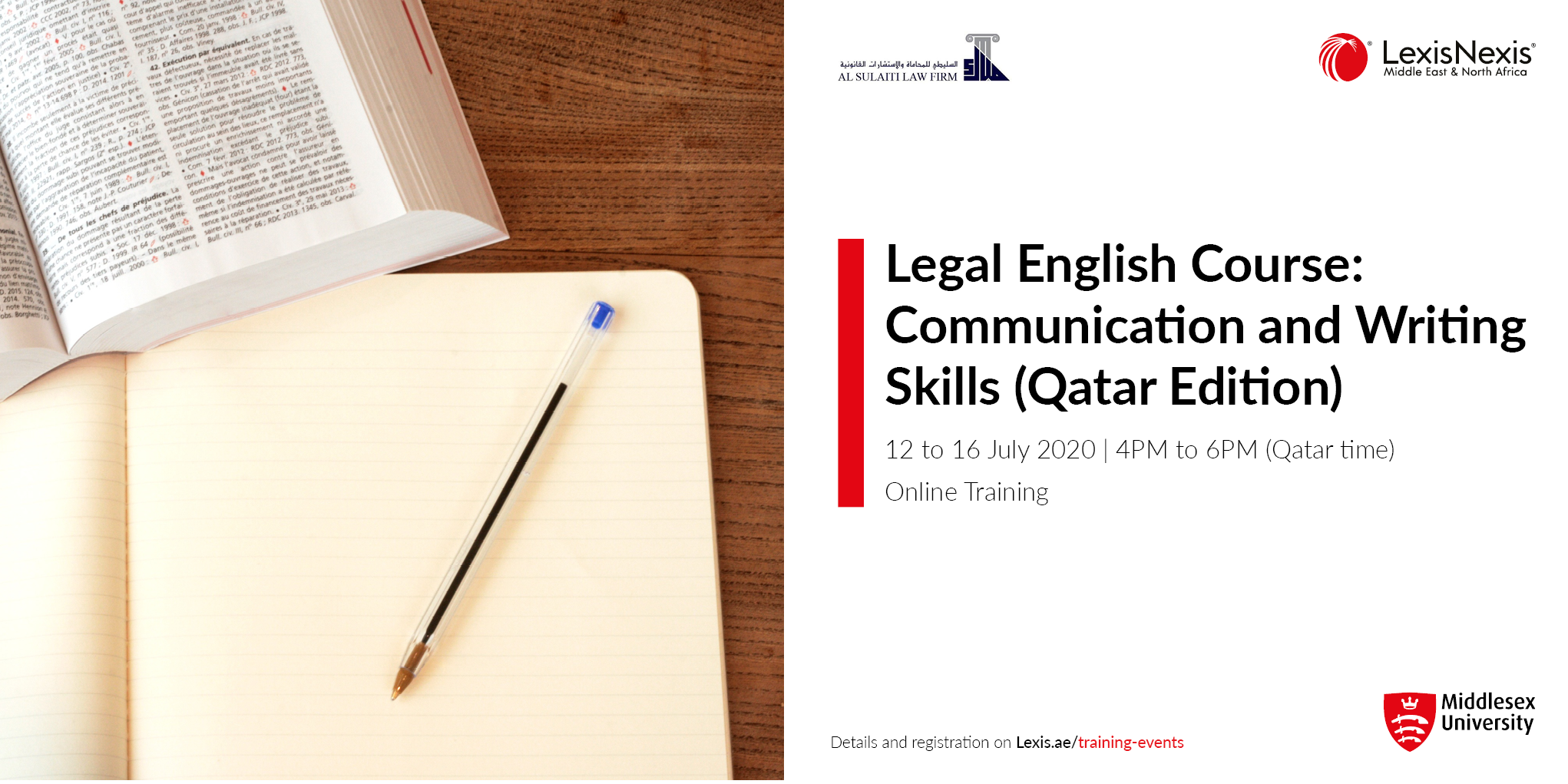 Join LexisNexis, Al Sulaiti Law Firm and Middlesex University for the Legal English Course: Communication and Writing Skills taking place from 12 to 16 July 2020.
COURSE OVERVIEW
English is the established language of the legal profession and it is therefore an essential tool for any legal professional, particularly when working in a diverse environment such as the financial hubs of GCC. This Legal English course has been designed to develop the participant's language and communication skills in a legal context by focusing on the forms of English used in English law, and the use of skills such as drafting, interpreting and communicating, in order to assist in developing the effective and accurate use of legal English in practice.
This course is aimed at non-native English speakers legal practitioners, such as Arabic native-speaking practitioners and students.
LEARNING OUTCOME
Acquire new knowledge, competencies and skills in specified areas of legal practice that are relevant to the region;
Assist lawyers in expanding their knowledge of legal English terminology;
Understand the principles of using plain English when drafting legal documents;
Verbally communicate more effectively in English in a legal professional context;
Enhance interpretation of legal document skills; and
Improve thoroughness in drafting formal written work, such as: letters, emails, and memoranda.
BENEFITS FOR THE LAWYERS
The legal English course provides practitioners with the opportunity to practice socializing in English with other legal professionals.
The course provides practitioners with the opportunity to practice, improve and receive feedback on their writing, reading and communication skills by participating in a range of activities such as: drafting correspondence and commencing negotiations, whereby the specialized tutor is able to offer language solutions and improve practice.
LANGUAGE
English
CERTIFICATION
Participants who will complete to full programme will receive a LexisNexis Middle East & North Africa / MDX Certificate of Completion.
PROGRAMME
 
Topic
To be covered
DAY 1 –  12 July 2020

4PM to 6PM (Qatar time)

English Legal Terminology Common Law vs Qatar Civil Law

Comparison between common and civil law legal systems, overview of common law legal system, sources and types of law (common law, statute), principle of precedent.

DAY 2 – 13 July 2020

4PM to 6PM (Qatar time)

Foundations and Principles of English Common Law

The adversarial system
Classification of the law
English court structure
Sources of law
Doctrine of precedent
Statutory interpretation

DAY 3 – 14 July 2020

4PM to 6PM (Qatar time)

English Legal Terminology Common Law Procedure

Outline of common law legal system laws and procedures, legal terminology of court procedures, start to finish process of commencing a claim, particular focus on skills required in commercial litigation (court etiquette, court setup, presentation skills).
DAY 4 – 15 July 2020

4PM to 6PM (Qatar time)

Legal Communication

Use of legal English in different types of legal documents, the use of simple English, what to avoid when drafting and examples of effective drafting, to include a variety of legal documents and all types of communication.
DAY 5 – 16 July 2020

4PM to 6PM (Qatar time)

Master Class (Practical Component with Feedback)

Interpretation of legal document exercise, analysis of case trajectories, breakdown of case-law judgments.

Redrafting and restructuring a number of poorly drafted documents, drafting a response to an email from a fictional client and a letter to an opponent.
SPEAKERS
Conrad Sturm, B.A. (Hons.), J.D., LL.M., Assistant Professor of Law, Qatar University College of Law
Samantha Jayne Roberts, Senior Lecturer in Law, Middlesex University
Lisa Riddler, Lecturer in Law, Middlesex University
IN COLLABORATION WITH
We're sorry, but all tickets sales have ended because the event is expired.
Legal English program - Session 1


12/07/2020




4:00 PM - 6:00 PM

Legal English program - Session 2


13/07/2020




4:00 PM - 6:00 PM

Legal English program - Session 3


14/07/2020




4:00 PM - 6:00 PM

Legal English program - Session 5


15/07/2020




4:00 PM - 6:00 PM

Legal English program - Session 4


16/07/2020




4:00 PM - 6:00 PM