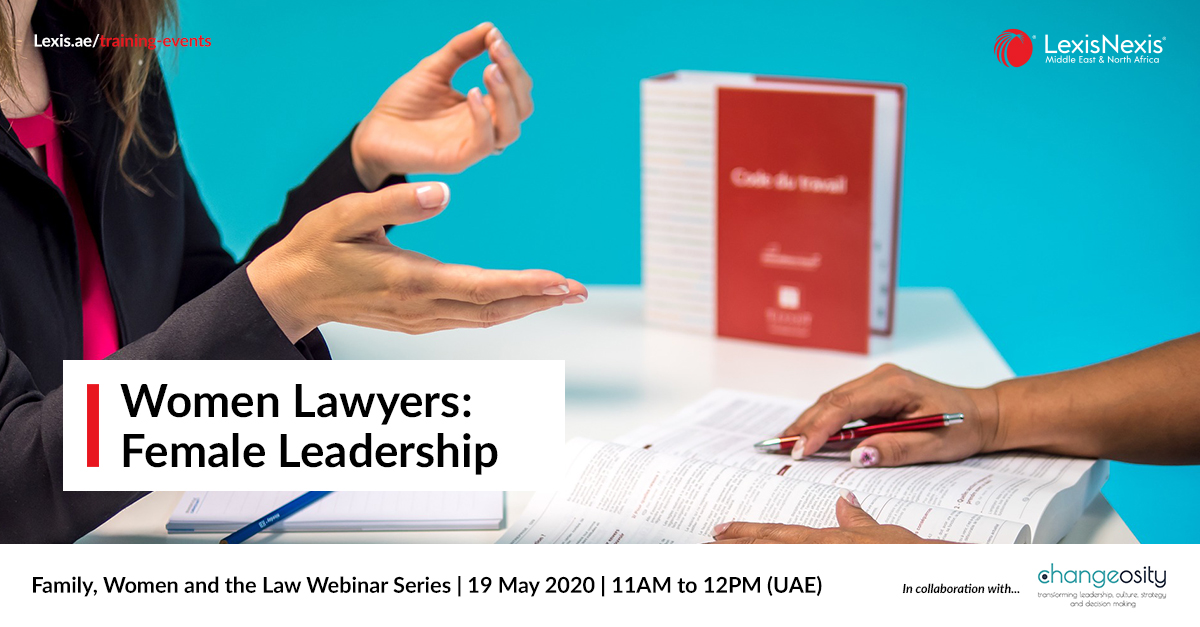 OVERVIEW
Families and women are at the heart of our society and hold great importance. LexisNexis will therefore be bringing you a webinar series to celebrate their role in society.
Through this series of webinars, you'll be given the opportunity to have a look at the challenges being faced, in today's socio-economic world, especially with the health and economic crisis of COVID-19. It will also allow you to receive strategic advice on how to develop and improve your leadership approach during this unique situation and following this crisis.
This series is aimed at all women, lawyers or not, mothers or not, working or housewives but also to men interested in Family Law developments and engaging in women's leadership advancement.
WOMEN LAWYERS – FEMALE LEADERSHIP
With the steady rise in female lawyers fulfilling leadership roles, it only seems fitting to embrace this opportunity and explore this increase and provide guidance to current and future female leaders. Join LexisNexis and changeosity on 19 May 2020 from 11AM to 12PM for a webinar where Kiran will discuss her views on:
The leadership behaviours required to lead through change in the 21st century;

Why these leadership behaviours lend themselves to female leadership; and

5 Top Tips to ensure you exhibit the leadership traits required to deliver success in these challenging and disruptive times. 
SPEAKER
Kiran Scarr, Co-Founder & Principal, changeosity
SERIES PROGRAMME
| | | | | |
| --- | --- | --- | --- | --- |
| Title | Date | Time | Information | Registration |
| COVID-19 – Family Law updates | 5 May 2020 | 11AM to 12PM (UAE time) | | |
| COVID-19 – How to conciliate working from home and family life? | 12 May 2020 | 11AM to 12PM (UAE time) | | |
| Women Lawyers – Female Leadership | 19 May 2020 | 11AM to 12PM (UAE time) | | |
| | | | | |
LEXISNEXIS MIDDLE EAST – CORONAVIRUS (COVID-19) INSIGHTS
The LexisNexis Middle East team has developed the following Coronavirus (COVID-19) insights addressing emerging issues across a variety of practice areas.
Kits
COVID-19 Toolkit (for subscribers) (access here)
Free COVID-19 Resource Kit (1) (access here)
Free COVID-19 Resource Kit (2) (access here)
Commentary
Coronavirus and the potential application of the concept of Force Majeure in the GCC – Dr. Talal Aladwani
UAE insolvency landscape post COVID-19 pandemic – Peter Bowring
Measures taken by Saudi Arabia to combat COVID-19 – Dr. Qaisar H Metawea & Lamisse Bajunaid
Amendments to the Kuwait Law of Civil and Commercial procedures –  Dr. Talal AlAdwani
Catching COVID-19 deemed force majeure by French court – Prof. Luc Gynbaum
Coronavirus and the Rule of Law: A Warning From History – Ian McDougall
Practice Notes
COVID-19: Challenges for the Legal Profession
The legal consequences of COVID-19 on your contracts: Force Majeure in different jurisdictions and industries
Checklists & Flowcharts
Key Operational & VAT aspects Businesses in the GCC should consider in response to the COVID-19 crisis – Checklist
COVID-19 and Data Privacy (Oman) – Checklist
COVID-19: Navigating the new world of working remotely, self-isolation and sick pay – Flowchart
Q&A Guides
COVID-19: How to Lead Through Change – Q&A
COVID-19 and UAE property law
What will the legal landscape look like post COVID-19 and what should we expect from a business perspective?
Precedents
Force Majeure Clause
Force Majeure and Business Continuity Clause
Legal News
Lexis Middle East subscribers have access to our daily news stream, which includes COVID-19 legal updates. These updates can be accessed here or in the 'Legal News' module of Lexis Middle East.
LexisNexis MENA COVID-19 Blog
The LexisNexis Middle East team has also launched a blog on developments on COVID-19 in the Middle East, which can be accessed here.
LexisNexis Global Coronavirus (COVID-19) Resource Kits
Readers can also access direct links (here) to the LexisNexis Global COVID-19 Resource Kits from our teams in USA, UK, Canada, France & Australia.
We're sorry, but all tickets sales have ended because the event is expired.
Webinar: Women Lawyers – Female Leadership


19/05/2020




11:00 AM - 12:00 PM