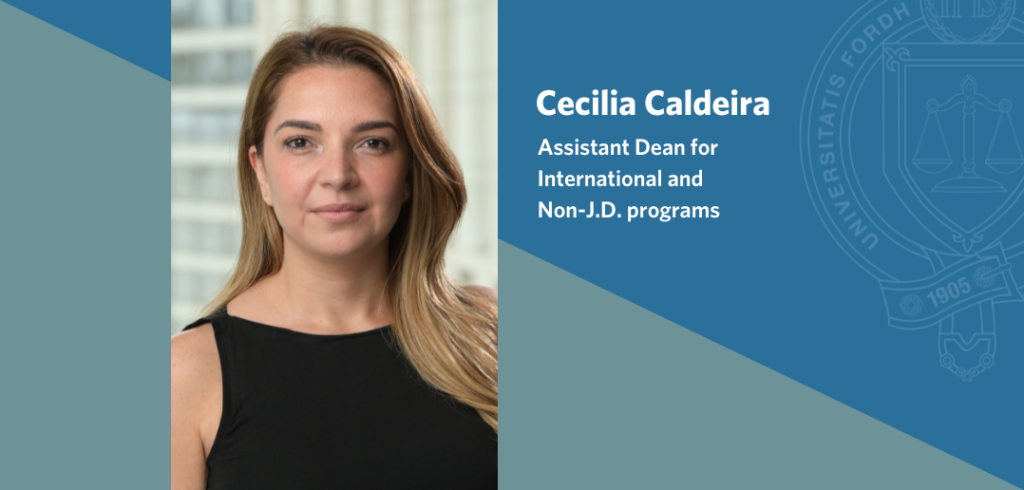 Assistant Dean of International and Non-J.D. Programs, Fordham Law School
Cecilia Caldeira is the Assistant Dean of International and Non-J.D. Programs at Fordham Law School. Previously she worked at Brooklyn Law School, where she served as director of international programs. She also taught Fundamentals of American Law for foreign-trained lawyers in the LL.M. program as an adjunct professor. In her role as director of international programs, Ms. Caldeira helped oversee all aspects associated with non-J.D. programs—including recruiting, advising and enrolling students—and fostered academic relationships and agreements with international institutions.
Previously, Ms. Caldeira led the international and graduate programs at the Elisabeth Haub School of Law at Pace University, where she also taught introductory courses in U.S legal research and writing and the American legal system. She co-created the Pace Pre-Law Certificate Program, a comprehensive certificate program for aspiring lawyers that launched in 2018. Originally from Brazil, Caldeira grew up in Westchester County, New York, and speaks several languages, including Portuguese, Spanish and Italian. She received her M.B.A. from New York University Stern School of Business, a J.D. from Saint Louis University School of Law, and a B.A. in economics and English from Bryn Mawr College.
Events this person is involved with: