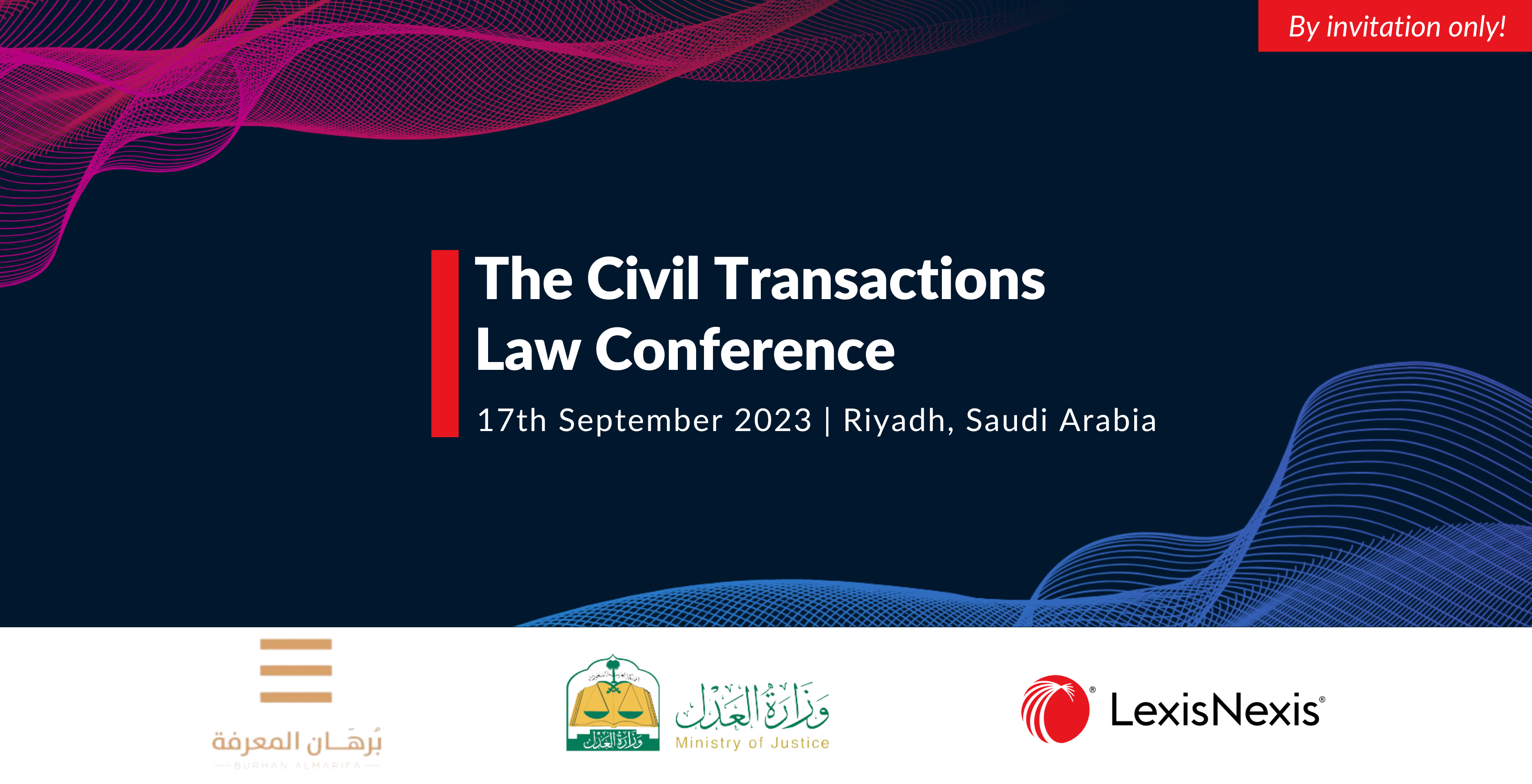 OVERVIEW
Join us at the prestigious event, "The Civil Transactions Law Conference" set to take place on the 17th of September in Riyadh. This conference promises to be an enlightening and intellectually stimulating gathering, bringing together key figures in the field of civil transactions within the Saudi Arabian legal landscape.
The conference commences with a thought-provoking keynote address by Dr. Najib Hage-Chahine, a renowned expert in civil transactions. Dr. Hage-Chahine's insights are expected to set the tone for the rest of the event, offering valuable perspectives on the conference's central theme.
The conference will feature a diverse range of critical topics related to civil transactions in Saudi Arabia, including the law's background, implementation, Commercial Transactions Law, damages, real estate, and the construct of contracts. Additionally, don't miss our engaging panel discussion moderated by Joza Alrasheed, where legal experts will delve deeper into these subjects, providing valuable insights and perspectives.
This conference offers a unique opportunity for legal practitioners, and in-house counsels to immerse themselves in a rich dialogue about the intricate world of civil transactions in Saudi Arabia. Register now to secure your place at this enlightening event!
WHY ATTEND?
This event is a must-attend if you want to:
Stay Informed
Gain Insights
Network
Contribute to Discussions
Interaction with Government Representatives
Practical Knowledge
NEOM Perspective
KEY TOPICS
The conference will cover a range of critical topics related to civil transactions in Saudi Arabia, including:
Background of the Law
Implementation
Civil Transactions Law & Commercial Transactions Law
Damages
Ownership & Real Estate
Construct of Contracts
AGENDA
06:30 pm
 Registration & Networking 
07:00 pm
 Welcome Remarks
07:15 pm
 Keynote Speech by Dr. Najib Hage-Chahine
07:45 pm
 Break/ Networking
08:00 pm
 Panel Discussion

 Moderator: Joza Alrasheed

 Panelists: Dr. Yousef Abdulaziz Al-Farraj
                    Dr. Abdul Wahab Al Khudairi
                    Julian Hodda
                    

09:30 pm
 Closing Remarks
SPEAKERS
Joza Alrasheed

Managing Partner at Herbert Smith Freehills

(Moderator)

Dr. Najib Hage-Chahine

Managing Partner, Hage-Chahine Law Firm


(Keynote Speaker)

Dr. Abdulwahab M. Alkhadhari- الدكتور عبدالوهاب بن محمد الخضيري

Member of Judicial Legislation Committee, Assistant Professor at King Saud University – عضو لجنة التشريعات القضائية وعضو هيئة التدريس في جامعة الملك سعود


(Panelist)

Dr. Yousef Abdulaziz Al-Farraj – الدكتور يوسف عبدالعزيز الفراج
Head of the Court of Appeal.Member of the Judicial Legislation Committee – رئيس محكمة استئناف – عضو لجنة التشريعات القضائية(Panelist)
Julian Hodda

Director – Legal (Projects and Real Estate), NEOM

(Panelist)
IN COLLABORATION WITH:
We're sorry, but all tickets sales have ended because the event is expired.
Address:
Imam Saud Ibn Abdul Aziz Road
,
Riyadh
,
12363
,
Saudi Arabia
The Civil Transactions Law Conference


17/09/2023




6:30 PM - 9:30 PM