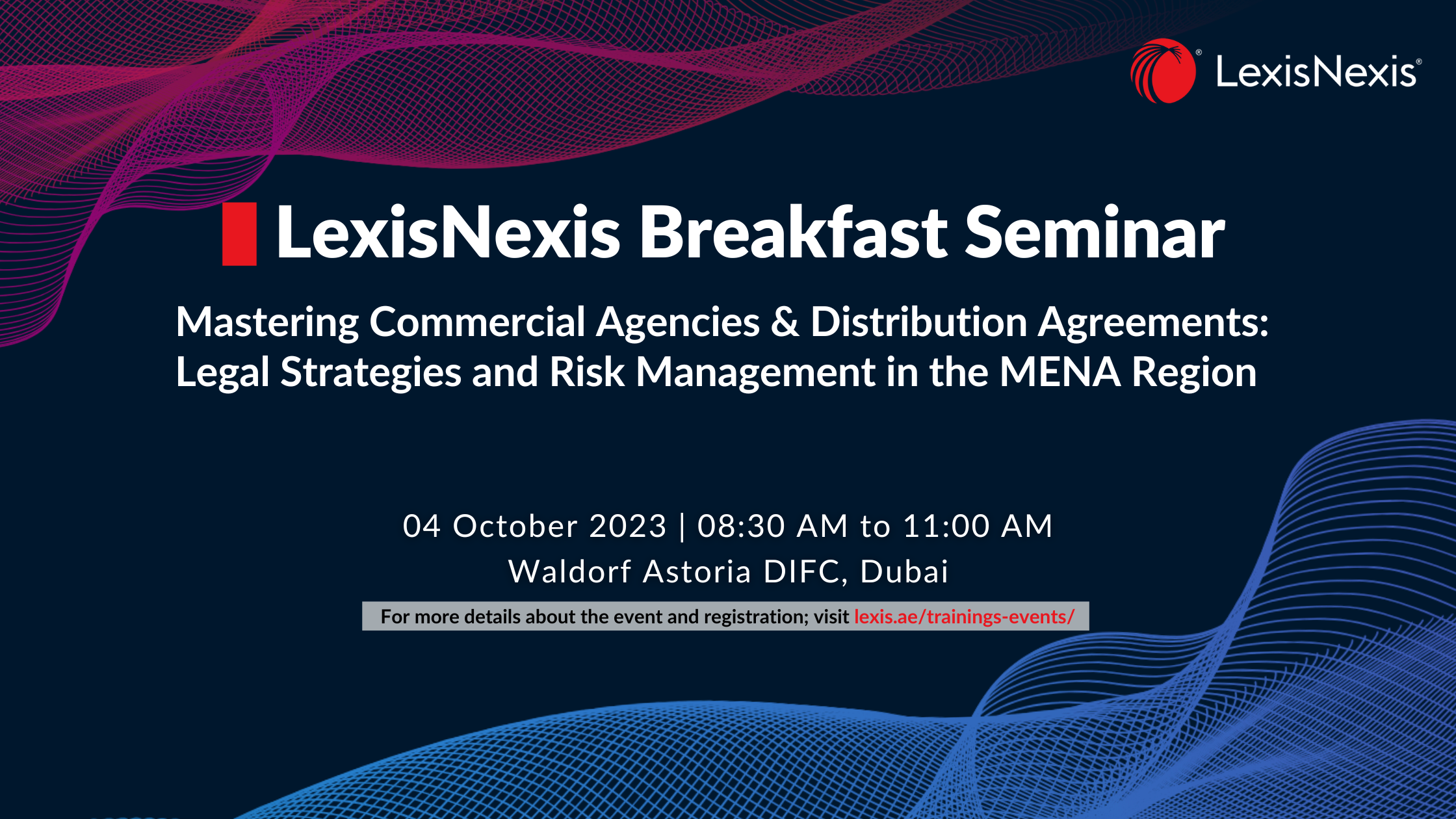 Mastering Commercial Agencies & Distribution Agreements:
Legal Strategies and Risk Management in the MENA Region
OVERVIEW
Navigating the complexities of commercial agencies and distribution agreements within the MENA region requires not only a keen understanding of international business practices but also a deep grasp of the intricate legal landscape specific to the area.
From the application of unforeseen local dealer protection rules to compliance with ever-changing local practices, businesses face multiple challenges in a sector that is undergoing legal reforms across multiple Arab Countries including Lebanon, the UAE and the KSA.
The seminar on "Mastering Commercial Agencies & Distribution Agreements" is meticulously designed to equip professionals, legal experts, and business leaders with the knowledge and strategies necessary to excel in this challenging environment.
This seminar is a comprehensive exploration of the legal intricacies, risk mitigation tactics, and strategic insights vital for successful commercial operations in the Middle East.
Date: 04 October 2023
Time: 08:30 AM – 11:00 AM
Location:  Waldorf Astoria DIFC
This seminar is a unique opportunity for in-house counsel to gain insights from industry experts and engage in meaningful discussions on topics crucial to their organizations.
WHY ATTEND?
This event is an exceptional opportunity for the in-house counsel community to:
Gain in-depth insights
Networking opportunities
Obtain practical strategies
Stay updated
KEY TOPICS
Explore vital legal topics, including:
Legal Framework in MENA & Recent Reforms : Gain an in-depth understanding of the general legal framework governing commercial agencies and distribution agreements in the MENA region, including new legal reforms across the MENA Region.

Contract Drafting and Negotiation: Learn effective strategies for drafting, negotiating, and structuring commercial agency and distribution agreements to protect your interests and minimize potential disputes.

Risk Management: Explore risk assessment and management techniques to safeguard your business against unforeseen challenges, from market fluctuations to legal disputes.

Dispute Resolution: Understand the various mechanisms available for resolving commercial disputes in MENA, including arbitration and litigation, and how to navigate these processes effectively.

Case Studies and Best Practices: Analyze real-world case studies of successful and unsuccessful commercial ventures in MENA, uncovering valuable insights and best practices for your business.

Cultural Sensitivity and Relationship Building: Discover the significance of cultural nuances in MENA business relationships and develop strategies to build trust and strong partnerships.
SPEAKERS
Karim Mahmood – Partner at Hadef & Partners
Nadine Kubab – Head of Legal at Chalhoub
Hassan Al Kilany – Senior Legal Advisor at the Ministry of Economy
AGENDA
| | |
| --- | --- |
| 08:30 am – 09:00 am |  Breakfast & Networking  |
| 09:00 am – 10:15 am |  Panel Discussion |
| 10:15 am – 11:00 am |  Cofee & Networking |
| | |
| --- | --- |
| ORGANISER | |
We're sorry, but all tickets sales have ended because the event is expired.
04/10/2023




8:30 AM - 11:00 AM