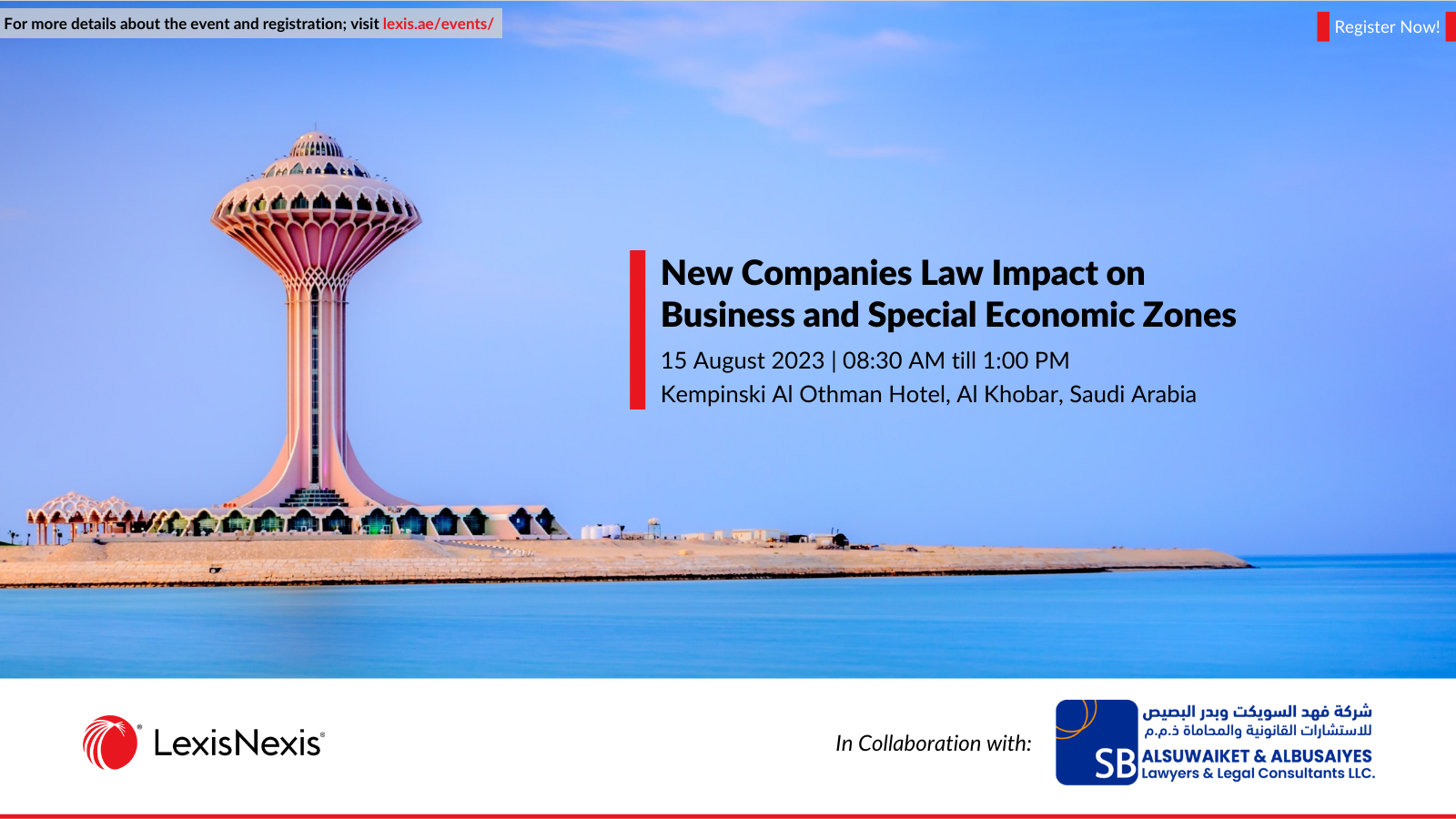 OVERVIEW
Join us at the "New Companies Law Impact on Business and Special Economic Zones" Event!
LexisNexis Middle East is pleased to invite you to join our first edition event on 22nd August 2023 (Tuesday) at AlJazeera Hall, Main Asharqia Chamber Building, Al Khobar, Eastern Province of Saudi Arabia. The event will take place from 8:30 AM to 1:00 PM.
Are you curious about the implications of the new  Companies Law on businesses and Special Economic Zones? Do you want to gain insights from industry experts and thought leaders on this critical topic?
This event is a unique opportunity to delve into the ramifications of the recently enacted Companies Law on various aspects of businesses and Special Economic Zones. Throughout the day, we will host engaging panel discussions, and networking sessions to foster meaningful interactions among participants.
WHY ATTEND?
This event is a must-attend if you want to:
Stay Informed: Get up-to-date knowledge about the Companies Law's impact on businesses and Special Economic Zones.
Gain Insights: Learn from experts who have a deep understanding of the subject matter.
Network: Connect with industry peers, professionals, and decision-makers.
Contribute: Engage in discussions that influence and shape the business landscape.
KEY TOPICS
New Companies Law Implementation: Legal Implications
Compliance Challenges in SEZs
Legal Opportunities in SEZs
Arbitration Agreement in Relation to Company Law
AGENDA
| | |
| --- | --- |
| 08:30 am |  Registration & Networking  |
| 09:00 am |  Welcome Remarks |
| 09:10 am |  Panel Discussion |
| 10:50 am |  Break/ Networking |
| 11:00 am |  Panel Discussion continued… |
| 01:00 pm |  Closing Remarks |
SPEAKERS
Dr. Bader Al Busaiyes

Managing Partner of AlSuwaiket & AlBusaiyes Law Firm.

Dr. Bader is a certified lawyer from the Ministry of Justice Saudi Arabia and a renowned Arbitrator in the Kingdom since 2005. He is also a Fellow of the Institute of Chartered Institute of Arbitrators (CIArb) London and currently working as the Managing Partner of Al Suwaiket & Al Busaiyes Lawyers and Legal Consultants since 2006.

Dr. Bader is a competent and result-driven professional with extensive experience in the legal sector with his competitive management and leadership capability as well as a certified mediator from Chartered Institute of Arbitrators London.

He holds a proven track record in legal knowledge, Arbitration, litigation, drafting, and negotiation skills and he has accomplished various legal and management training organized by several international training institutes as well as extensive experience in advising international and local clients from both Public and Private sectors like Oil and Gas, Energy, Insurance, Construction, Tourism, Banking, Foreign investment, corporate law.

Dr. Amer Al Qahtani

Legal Affairs & Arbitration Centre Manager at Asharqia Chamber

Highly proficient in providing expert legal advice and guidance to clients and company management, with a keen focus on understanding and addressing their legal interests, risks, and obligations. Possesses exceptional research, investigation, and analytical skills, enabling the interpretation of complex legal concepts.

Brings extensive hands-on experience and comprehensive expertise in managing all aspects of construction-related contracts, from initial documentation and negotiation to effective administration and conflict resolution.

Skilled in legal consultation, regulation development, and adeptly managing Alternative Dispute Resolution (ADR) processes such as Arbitration and Mediation. Possesses a strong background in academic and legal research and is well-versed in providing training in law.

Efficiently liaises with government agencies, law enforcement officers, and administrative departments, effectively presenting cases in courts of law. Demonstrates a proven track record of independently handling complex assignments, ensuring strict compliance with business and trade laws, and aligning business operations with statutory guidelines.

A proactive, achievement-driven professional with exceptional multi-tasking abilities, committed to delivering results within set deadlines. Possesses excellent communication, quick learning, problem-solving, decision-making, planning, and executing skills.

Mr. Wajdi Edress

Group Chief Legal Officer at Almajdouie Holding

Mr. Meshari AlSuhaimi

Legal Associate at AlSuwaiket & AlBusaiyes Law Firm

(Moderator)

He is a highly motivated legal associate with a strong focus on corporate and business legal matters. With experience in Saudi law practice and a proven track record in Business Development, he possesses a comprehensive skill set and an unwavering commitment to delivering exceptional results.

He holds a bachelor's degree with honors from Taibah University's Law School, demonstrating a strong commitment to academic excellence. His passion for corporate and business law led him to pursue specialized coursework in these areas, equipping him with a well-rounded skill set that seamlessly integrates theory and practice.

Prior to joining AlSuwaiket and AlBusaiyes Lawyers, he excelled as a Business Support Consultant at Monshaat, delivering over 150 business support sessions to empower entrepreneurs and facilitate business growth. His proactive approach and strategic thinking identified opportunities for process improvement and system enhancements, maximizing the support center's impact on the business community.

As a Legal Associate, Mr. Meshari actively contributes to the litigation team, diligently representing clients in Saudi courts. He combines legal expertise with innovative approaches to provide tailored solutions that help clients achieve their objectives. Specializing in corporate legal matters, Meshari's meticulous research and analysis enable him to offer professional and well-informed legal opinions, guiding clients through complex situations.

Recognized for his strategic thinking and leadership abilities, he plays a key role in developing the firm's business plans and strategic goals, driving growth, and ensuring continued success.

Practice Areas: Litigation, Arbitration, Corporate Governance.
| | |
| --- | --- |
| ORGANISER | |
IN COLLABORATION WITH:
We're sorry, but all tickets sales have ended because the event is expired.
New Companies Law Impact on Business and Special Economic Zones


22/08/2023




8:30 AM - 1:00 PM