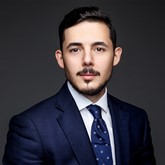 Senior Associate, S & A Law Firm
KEREM ALEV is a Senior Associate at S & A Law Firm. He is dual-qualified as a Barrister and a Solicitor in England & Wales, having first qualified as a Solicitor in 2013. He brings comprehensive and all-around experience in both dispute resolution and corporate transactions.
He has been an advocate in cases involving commercial, corporate and construction disputes. He has regularly attended Court as the advocate for multiple-day trials, made applications of all forms, including injunctions, and attendances at mediations and international arbitrations. He has also advised on corporate transactions and was previously retained as General Counsel to an international group. He led the group on its corporate actions, delisting requirements with the London Stock Exchange and restructuring.
Before moving to Oman to join S & A Law Firm, Kerem lived in London. He worked as a Barrister at a global law firm representing clients in commercial, insolvency and insurance (professional indemnity and public liability) disputes.
He is bilingual and fluent in both English and Turkish. He has been a non-executive Board Member of the British Turkish Lawyers Association since 2015.