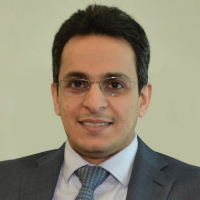 Assistant Professor at Kuwait International Law School, KOTC ( Kuwait )
Areas of expertise
Maritime; Commodities and Trade; Disputes Resolution; Insurance; Commercial Shipping; Law of the Sea; Law drafting and reform; Marine Operations; Multimodal Carriage of Goods- Inland, air and sea.
Education
PhD and LLM in Commercial and Maritime Law
Bachelor in Marine Operations and Law
Master Mariner (Unlimited)
HND Nautical Science
Biography
Dr. Aladwani specialises in advising clients on disputes in shipping, international trade, commodities, marine insurance, ships building and dry docking, marine operation and chartering, ships sales, carriage of goods by sea, air and land, and IP. He was appointed by the IMO as a team leader to assist several countries in reforming their commercial and maritime laws. Also, he is a former IMO Maritime Ambassador. Dr. Aladwani consulted governments on matters related to law of the sea. He has drafted the National SAR Plan of Kuwait and wrote several publications (books, articles, and conference papers ) on common law, carriage of goods, maritime law, law of the sea, admiralty law, rules of engagement, and IP law. He has several years of seagoing experience.
Events this person is involved with: